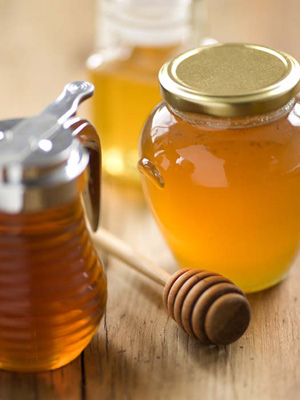 Science often borrows from nature to create effective products that work. This is certainly the case in the area of skin care where many naturally derived ingredients including alpha hydroxy acids, essential oils and other botanical (plant) extracts are incorporated into products to deliver results. One such ingredient, used through the ages, is honey. Cleopatra is reported to have taken milk and honey baths to improve the appearance of her skin. 
Honey's Beneficial Properties
As customers seek more 'natural' alternatives in their skin care products, honey is being increasingly used in face creams, hair care products and moisturizers. It's been shown to possess anti-inflammatory, anti-bacterial and antioxidant properties, which makes it a useful addition to skin care products. Honey is a humectant, which helps it attract moisture to the skin making it useful in the management of dry skin. Lastly, honey possesses anti-irritant properties, helping to soothe irritation in skin that is sensitive.
Due to its potent antibacterial effects, hospitals in Asia and Europe have used honey infused bandages to help heal infected wounds successfully. Many other countries are now following the lead. Though scientists still aren't sure which ingredients give honey its benefits in wound healing, it's likely that its use will expand.
Honey in Skin Care
Honey's ability to retain and attract moisture make it an ideal ingredient for incorporation into moisturizers. Skin will feel hydrated and supple. Its antioxidant properties can help to combat free radical damage associated with exposure to the sun. Honey is also an excellent ingredient in cleansers due to its antibacterial action. This same antibacterial action may be beneficial to some individuals in the treatment of mild acne.
Honey and Soy Moisturizer
Honey tends to be well tolerated by all skin types. And if you're a do it yourselfer, you'll find a range of recipes on the internet for at home treatments to treat and pamper your skin.
If you'd like to incorporate honey into your skin care regimen and you'd rather purchase a ready made product, then consider a product like UltimaSkin Honey and Soy Cream. Infused with honey to soothe and moisturize, this skin cream also contains soy to help fight free radicals and boost collagen production in aging skin.