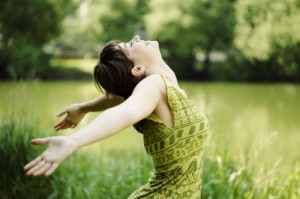 If you lean towards organic and natural skin care products then it's likely that you'll want to skip the chemical sunscreens and opt for a natural (or more appropriately, chemical free) formulation that contains zinc oxide and/or titanium dioxide.
Natural sunscreens rely upon the use of physical sunscreen filters such as zinc oxide or titanium dioxide. They work by sitting on top of the skin and providing a barrier against UV rays, deflecting them away from the skin and preventing any harm. Chemical sun filtering agents, on the other hand, work by being absorbed into the skin's top layer and deflecting UV rays or absorbing their energy and converting them into something harmless.
Zinc Oxide or Titanium Dioxide?
Read labels carefully as some sunscreens claim to be 'natural' but really aren't. Since the term isn't regulated, some cosmetics manufacturers will try to have you believe you're buying something that you're not. Natural sunscreens should contain only zinc oxide or titanium dioxide as their sun filtering agents. Ingredients including oxybenzone, octinoxate, avobenzone, Mexoryl SX, Mexoryl XL and Tinosorb are all chemical sun filters and work differently. Some natural sunscreens may be fortified with additional ingredients, including green tea, Vitamins C or E. The antioxidant activity provided by ingredients like these has been shown to enhance the effectiveness of sunscreens. And, they can also fight free radical damage associated with sun exposure.
Does a sunscreen need to contain both zinc oxide and titanium dioxide to be effective? No. Zinc oxide provides protection against the full UVA and UVB range; it covers from 290 to 380 nm. In fact, it is the only sun filtering agent that delivers such broad spectrum protection against UVA and UVB rays. Titanium dioxide, on the other hand, protects well against UVB rays and short UVA rays, but not against longer UVA rays. For this reason, sunscreens containing titanium dioxide should include more effective UVA protection such as zinc oxide or Mexoryl SX. Anthelios sunscreens incorporate titanium dioxide and Mexoryl SX/XL as well as other sun filters as part of its patented sun filtering complex.
Recent changes to sunscreen regulation in the European Union require certain levels of UVA protection. Many natural sunscreens in Europe have been using titanium dioxide as the only sun filtering agent and this cannot deliver sufficient UVA protection. For this reason, many European manufacturers have had to pull their sunscreens off the shelves and are in the process of reformulating to deliver products that offer broader UVA and UVB protection.
We stock a range of natural sunscreens that are formulated without the use of chemical sun filters. Consider the following brands:
Marie Veronique Organic Sunscreens – non-micronized zinc including formulations loaded with antioxidants
Badger Sunscreen – rated as one of the top 10 safest sunscreens by the Environmental Working Group
Heiko – Canadian made brand that incorporates zinc oxide for a range of effective sunscreen formulations
Check out our full range of natural sunscreens here.