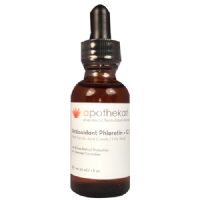 Ferulic acid, as found in apothekari Phloretin + C Antioxidant Serum, works to protect skin from free radical damage associated with aging and UV exposure.
A plant extract, ferulic acid has three main benefits for skincare:
It is a powerful antioxidant on its own, protecting cells from UV damage and neutralising free radicals. Studies have linked ferulic acid to liver and breast cancer prevention.
It works to stabilize vitamin C, which, though it is a well documented antioxidant itself, can actually release free radicals into your skin if it breaks down too much.
Find Ferulic acid in apothekari phloretin + C Antioxidant Serum, which is ideal for oily and combination skin. Its effects can be enhanced by using it in conjunction with apothekari Hydrate + B5 Gel, which boosts your skin's natural moisture barrier. If your skin is dry or normal, you may prefer apothekari Antioxidant C + E and Serum, which also contains ferulic acid.