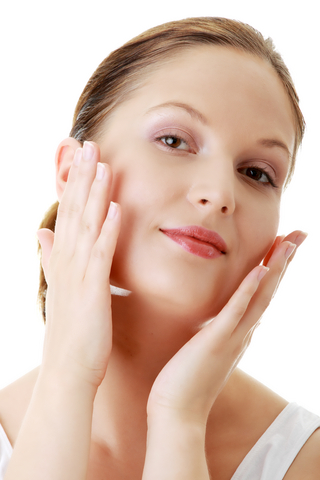 When I was in France last month, I noticed that many a Frenchwoman's toilette features a micellar solution. Micellar solutions are ideal for busy lifestyles and for sensitive skin. With one product, irritation-producing residues (including makeup and impurities) are removed, leaving the skin's moisture barrier intact. There is no rinsing involved, making micellar solutions ideal for quick use.
Cleansing is important because even in the absence of make-up, impurities accumulate on the skin's surface. These must be removed without using harsh ingredients that can irritate the skin. If impurities are left on the skin's surface for a long period of time, they can oxidize, leading to an over-reaction in sensitive skin types. This can lead to visible irritations on the face.
How does this solution work?
Micellar solutions are comprised of clusters of molecules. Each molecule has a hydrophilic (water loving) end and a hydrophobic end (water shunning). Spreading these clusters on the skin causes them to break open, sucking impurities from the skin's surface without friction.  Because the sebaceous (oil-producing) glands are not overstimulated, the skin is less irritated and the natural moisture of the skin is retained. The result is great-looking skin.
Who should use a micellar cleanser?
Micellar solutions work well for all skin types, but they are particularly ideal for those with sensitive skin, which tends to over-react to ingredients or situations more aggressively than others. With a weaker barrier function, sensitive skin is more vulnerable and its physiological balance is fragile so it really responds well to gentle but effective attention. The solution is great for removing makeup (even waterproof mascara) and environmental impurities.
How should I use a micellar cleanser?
Using a cotton wool pad, apply micellar solution to the face, eyes and lips. Do not rub or rinse off. You can partner it with a gel cleanser or eye makeup remover, but micellar cleanser does a great job on its own.
There are many brands available. We recommend Physiological Micellar Solution by La Roche Posay and Neostrata Micellar Cleanser. Click here to visit the cleanser department at PhaMix.