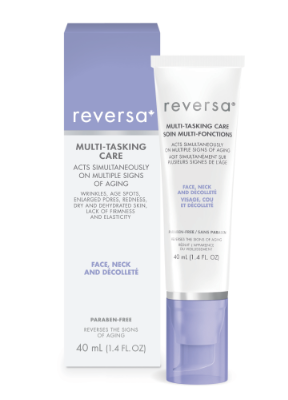 Reversa Multi-Tasking Care is one of those multi-tasking products that I just adore. It will help you keep your skin looking young and healthy with a minimum amount of fuss.
Designed for the face, neck and décolleté, this advanced formulation promises to combat multiple signs of aging, which simultaneously appear on skin. Reversa Multi-tasking Care contains Teprenone, a protective and corrective active ingredient that has been shown to:
Increase skin hydration
Restore the skin's barrier function
Firm and plump skin
Diminish the appearance of fine lines and wrinkles
Reduce pigmented spots
Decrease the appearance of pore size
A lot of claims for just one product. But Teprenone is a new generation active ingredient which helps skin appear visibly smoother and more uniform, functioning more like younger skin.
A clinical study on 24 volunteers demonstrated Reversa Multi-Tasking Care's efficacy.  It was applied morning and night during a 6-month period:
+34% increase in skin hydration after only 1 month
+19% reinforcement of skin barrier system (+19%) after 6 months
-42% decrease in pigmented spots after 6 months
+12% increase in firmness and+15% increase in tonicity after 1 month
+28% increase in skin uniformity
-14% decrease in roughness
-47% reduction in deeper wrinkles and -34% medium wrinkles after 6 months
-17% and -26% reduction of dilated pores after 1 and 6 months respectively
-30% decrease in skin redness after 1 month
Keep in mind that this was a company sponsored study.  Even so, you can't dispute the results.
Reversa Multi-Tasking Care comes in a light cream texture that is paraben-free, perfume-free and oil-free. It's a great choice for you multi-taskers, who want just one product that delivers more.
Looking for complementary treatments which also have multiple functions? I recommend a good cleanser like Reversa 3 in 1, a powerful antioxidant serum such as apothekari Antioxidant Serum with C, E and Ferulic Acid, and (I can never say this enough) a good, photostable sunscreen as found in Anthelios sunscreens.