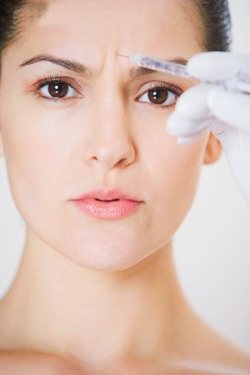 A topical treatment incorporating imitation snake venom is being marketed as an alternative to Botox. I don't think anything will surprise me anymore.
The active ingredient imitates a protein found in the venom of the Temple Viper snake. Inhibiting neuromuscular communication, it blocks messages from the brain to the facial muscles, reducing facial mobility so that wrinkles do not form. The human face uses about 60 muscles in communicating, both through speech and expressions. Frequent use of these muscles naturally results in the appearance of lines and then wrinkles, including laugh lines and crow's feet. Previous Botox alternatives have included cryotechnology.
The results of this product, called Wrinkle Defence, are typical of topical treatments in their cumulative effect. While Botox injections are immediately active on the facial muscles, the "freezing" results of this topical begin to appear after about two weeks. It is claimed that Wrinkle Defence visibly reduces wrinkles by 52%.
Is snake venom for me? No more than Botox – and if you read my blogs regularly, you'll know that I'm not a fan. There are a lot of good topicals out there which address facial lines without freezing your face. Visit our skin care department here.