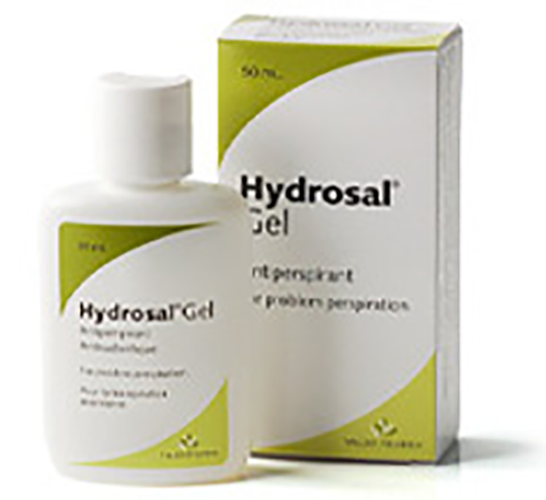 Hydrosal Gel is a new topical gel treatment for treating hyperhidrosis (excessive sweating). A unique formulation developed by dermatologists, Hydrosal Gel contains the highly effective ingredient aluminum chloride hexahydrate delivered in a proprietary gel base.
Unlike regular antiperspirants, Hydrosal Gel is a specially formulated proprietary gel intended for individuals with excessive sweating containing 15% aluminum chloride hexahydrate, a concentration proven to be more effective than other aluminum salts typically used in regular antiperspirants. The proprietary gel base means that Hydrosal has a low risk of irritation. Studies have shown the gel formulation is better tolerated than an alcohol solution found in many other products available for treating excessive sweating. In addition to reducing perspiration, Hydrosal Gel also reduces odors.
How To Use Hydrosal Gel
It is recommended that you wash and dry the area to be treated prior to application. A hair dryer set on "cool" could be used if necessary. A small quantity should be applied for seven consecutive nights at bedtime, then continued as needed.
If you have sensitive skin, two to three treatments per week at bedtime are initially recommended. For minor irritations, a hydrocortisone cream could be applied an hour before the application of the gel and 15 minutes later if needed. If irritation persists, stop the medication and contact your doctor.
Hydrosal Gel should not be applied to irritated, freshly shaved, or broken skin.
Hydrosal Side Effects
Hydrosal Gel is well tolerated by most individuals. However, it does have the ability to irritate skin. If irritation persists, stop using Hydrosal Gel and contact your physician.