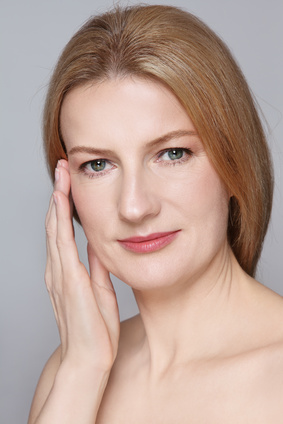 Youth may be wasted on the young, but there's one thing I don't miss about my teenage years: acne. Unfortunately, sometimes what goes around, comes around again. And as adults we are experiencing, more than ever, the return of acne.
Teen acne is usually triggered by the rush of hormones during puberty, kicking the sebaceous (oil) glands into overdrive. Breakouts tend to centre around the T-zone and occasionally the upper back. With adult acne, fluctuations in hormone levels are also the main culprit, along with stress and airborne pollution. However, unlike the typically oily teen skin, adult skin tends to be drier with breakouts clustered around the chin and jawline (what some may call the U-zone), proof of which is no further than my mirror, alas.
Although the direct link between acne and foods such as chocolate is still being hotly debated, it makes sense that the cleaner your diet, the better off you are in general, regardless if you are dealing with teen or adult breakouts. Apart from keeping an eye on what may trigger blemishes, sticking to a regular skin care program with some tried-and-treatments can help minimize episodes. Here are our top picks to get you through that awkward acne stage – again:
Apothekari AHA-Mazing Clean Gel: This soap-free gel contains a unique blend of active ingredients that not only cleanse but purify. Using a triple combination of AHA's, including Sugar Cane Extract,  this pearly green gel gently exfoliates clogged pores while helping to smooth out fine lines and wrinkles. Paraben-free, fragrance-free and sulfate-free, this new generation cleanser is also moisturizing and anti-aging.  If you have very sensitive skin, opt for Apothekari Cloud Nine Foaming Crème Cleanser.  Also soap-free, this gentle cleanser never leaves skin feeling stripped of moisture, and with its anti-oxidant and anti-inflammatory ingredients to calm breakouts, we know you'll love it.
A is for Anti-Aging Retinal Serum: When the seemingly unfair confluence of acne and wrinkles occurs, there's nothing better than a retinoid, skin care's superstar. A is for Anti-Aging boasts retinaldehyde, a gentle yet effective retinoid.  Initially used to treat acne, vitamin A works as a cell communicator to encourage skin to act normally, essentially telling it to behave like younger, undamaged skin. Not only does vitamin A shrink oil glands and reduce breakouts but also increases cell turnover and stimulates production of collagen, all good things in the fight against visible signs of aging. If you're new to the retinoid game, make sure you incorporate it gradually into your routine to allow your skin to build up tolerance. And as retinoids are sensitive to UV exposure, use this as part of your nighttime regimen.
Neostrata Acne Clear Clarifying Solution: This toning solution gives acne the one-two punch with 10% glycolic acid and 2% antibacterial salicylic acid to exfoliate, unclog pores and deep cleanse. Like retinoids, you'll want to introduce this gradually to build up tolerance. Glycolic acid can be drying for some skin types so you'll want to gauge how often to use this: once a day if your skin can tolerate it or every other day if you find it too strong.  Don't be under the outdated misapprehension that acneic skin needs to be "dried out". Nothing could be further from the truth.
The good news is that by the time menopause truly sets in and hormone levels balance out, adult acne should be nothing more than a memory.