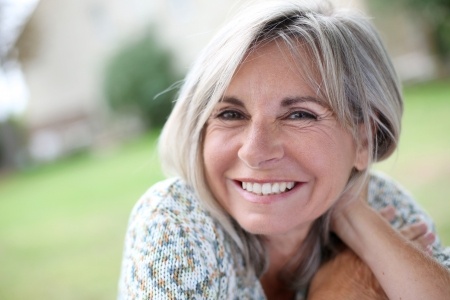 As if it wasn't enough that women of a certain age start to notice wrinkles, fine lines and sagging skin, acne and breakouts may rear their ugly head as well. Although we tend to associate acne with teenage skin, adult acne is also a thing. Our hormones continue to change as we age, and adult acne is a result of these fluctuations, which tend to swing more widely as we get older. Add in stress, poor eating habits and environmental irritants, and it's no wonder that many women (and men) may be struggling with breakouts in their 40s and 50s.
While teens tend to get acne in the T-Zone (forehead and chin), the drier skin of older adults tends to result in breakouts clustered around the chin and jawline (what some may call the U-zone).
There is some good news though. It is possible to combat both the signs of aging skin AND acne with just one product. Retinoids, which are derivatives of Vitamin A, not only fight against fine lines, age spots and sagging skin, they can also help to control breakouts. How's that for multi-tasking!
What are Retinoids?
Retinoid use, encompassing, prescription retinoic acid and over-the-counter, retinol and retinaldehyde, amongst other forms, dates back to ancient Egypt where liver (a rich source of Vitamin A) was used to treat night blindness. In the early 1930s, the chemical structure of retinol was determined and the first study using vitamin A to treat acne was published in 1943. Retinoic acid was first used dermatologically in 1959, and in the 1980s, its use in anti-aging treatments was pioneered.
Retinoids today often receive bad press. Although they are very effective, they can also be highly irritating and drying to skin. These side effects tend to be associated most frequently with retinoic acid and other prescription retinoids, but not limited to them. Newer forms, such as retinaldehyde, found in Apothekari A is for Anti-Aging, come with fewer side effects, and have been shown to be just as effective. Clinical studies show retinaldehyde to be closest to retinoic acid in a cosmetic topical, providing the ultimate wrinkle reduction and prevention properties to skin while being the least irritating form of Vitamin A.
Here are just a few things that retinaldehyde does:
It has cell communication properties, which encourage skin to act normally, essentially telling it to behave like younger, undamaged skin
Shrinks oil glands and reduces breakouts
Increases skin cell turnover and stimulates the production of collagen, leading to more youthful looking skin
Is gentle, making it perfect for all skin types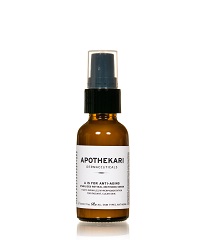 We think A is for Anti-Aging Retinal Serum is a skin care superstar. Its anti-acneic and anti-aging properties make it a must-have for anyone concerned about the health and appearance of their skin. Beyond just retinaldehyde, this serum is enhanced with a range of actives including:
Cloudberry Seed oil – rich in essential fatty acids and antioxidants to nourish and protect skin
L-Bisabolol – to calm inflammation and skin irritation
Niacinamide – to soothe, brighten and protect skin. Reduces the appearance of wrinkles and fine lines
Apply A Is For Anti-Aging Serum nightly to face, neck and décolleté after cleansing to help moisturize, reduce wrinkles and for skin cell renewal. For sensitive skin, apply 3-4 times weekly to begin with and gradually build up to using nightly.
When incorporating a retinoid into your skin care regimen, your skin may first go through a rough phase as dead skin exfoliates and pores unplug. Your skin may develop more blemishes at the outset and it may seem drier than normal. But persist, cutting back if you need to and within 4 – 6 weeks, your skin will look better than before!