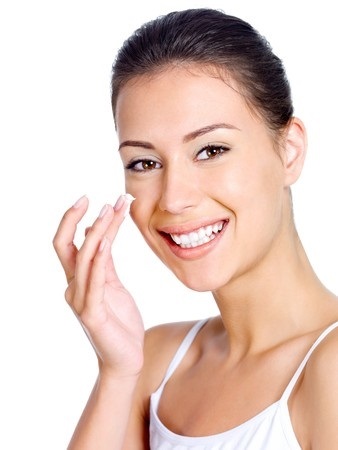 In our busy lives, there are days when some steps of our skincare routine are missed but most of us can at least adhere to the most basic routine of cleansing and moisturizing. This has been drilled into us since infancy (slight exaggeration here). But as we age our skin changes, so it's a good idea to reassess our skin's needs and choose a facial moisturizer that will address those concerns.
Moisturizers are meant to hydrate the skin with a combination of humectants, emollients and occlusives for maximum effectiveness. However, what worked when you were a teenager may not be the answer to your skin problems today. Luckily, there are so many choices beyond the basic moisturizer that can help solve the most common issues:
Redness: Red, flushed skin may be attributed to rosacea, a chronic and progressive skin condition. It often presents itself as flushing of the skin, redness, bumps, pimples and tiny visible blood vessels on the face. Look for moisturizers that are two-fold: free of common irritants (such as fragrance and alcohol) but with added soothing ingredients such as aloe, oat extract, jojoba oil and zinc oxide. Moisturizers with a sheer green tint can help neutralize the redness and give the skin a more even skin tone.
Fine Lines: Night creams with alpha hydroxy acids (AHAs) stimulate exfoliation and promote quicker cell turnover, helping to reduce the appearance of fine lines and wrinkles. Glycolic acid is a popular AHA of choice and can be found in concentrations ranging from 5%-10% in daily moisturizers, like Neostrata Glycolic Renewal Creams and Lotions. However, we suggest limiting these to your night time routine as AHAs can increase sun sensitivity.
Deep Wrinkles: Whether they run horizontally across the forehead or down along either side of the nose, deep wrinkles are nobody's friend. Look for a moisturizer that packs in actives to help stimulate collagen production. In this case, retinoids and peptides are the way to go. Neostrata's Wrinkle Repair Moisturizing Cream contains a winning combination of Peptide Q10, Matrixyl 3000 and 0.1% retinol. You can also use a dedicated retinoid like retinaldehyde in Apothekari A is for Anti-Aging Retinal Serum on clean, damp skin layered with a basic moisturizer of your choice over top.
Dull complexion: On top of moisture, your skin needs exfoliation. Again, a night cream with glycolic acid will help remove the layer of dead skin cells that are dulling your complexion. Want to take it to the next level? Add in a vitamin C serum like Bespoke Vitamin C to help even out and brighten overall skin tone.
Dry, visibly flaky skin: Like those with dull complexions, you'll need to exfoliate first before addressing very dry skin. Flaky dead skin cells create a barrier to your moisturizer absorbing fully. This could be accomplished by using either AHAs or retinoids as found in Apothekari A is for Anti-Aging before applying a more hydrating product with hyaluronic acid and/or ceramides. If you're a fan of both AHAs and retinoids, we suggest alternating them so as not to overtax the skin.
When our skin is feeling especially parched, we like to use an overnight sleeping mask. This is usually in a cream or gel form that is applied thinly on the skin and left overnight to do its magic. In the morning, cleanse your skin as usual. Feel free to be smug about how skin-smart you are!
If you somehow can't give up your favorite basic moisturizer, use boosters to add active ingredients and up the anti-aging power. Just as exciting are the newest color boosters: add a drop or two of highly concentrated pigment (like thicker foundation) to your moisturizer of choice to add tint and customized coverage. This is no more difficult than adding food coloring to white frosting. Brilliant, especially when finding a pre-made tinted moisturizer or BB cream to match your skin tone is a challenge.
All that being said, there's still a spot reserved in the cosmetic drawer for my favorite basic moisturizer, Apothekari's Daily Infusion. It's my steady standby when I feel all I need is a bit of hydration after using a weekly exfoliating peel or over my nightly retinal serum treatment. Like that pair of black flats in the closet, I know it's there when I need it.