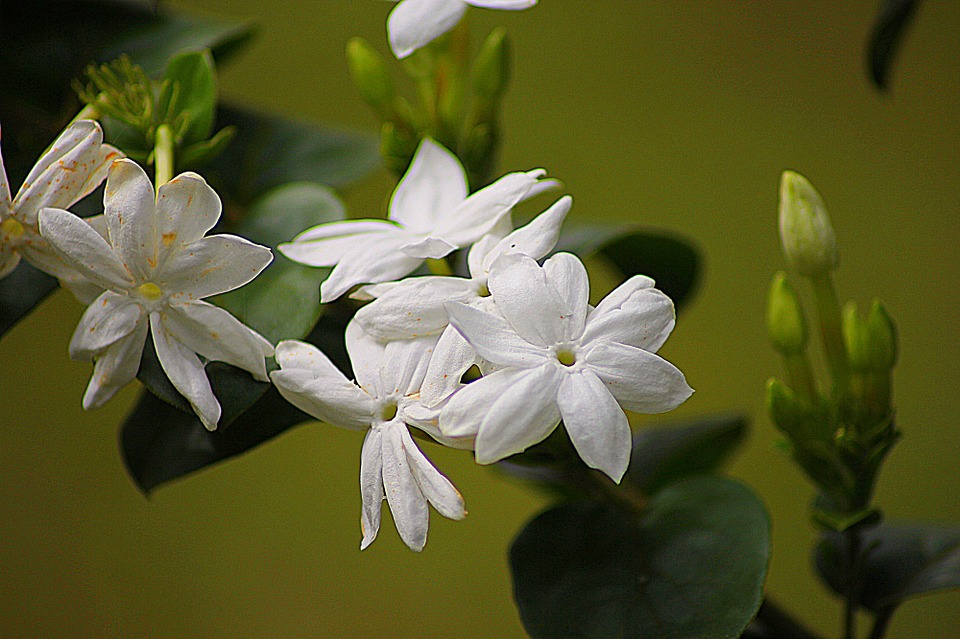 If just the mention of jasmine brings to mind a beautiful flower with a heady, romantic fragrance, you wouldn't be the first person to fall under the power of this delicate white bloom and its intoxicating scent. Jasminum sambac, or Arabian jasmine, is native to a small area in the eastern Himalayas but can now be found in many other warms parts of the world. In Hawaii, this beautiful flower is called pikake and is traditionally used to make leis for brides. It is also used in Asia to flavor tea, a process which involves layering the leaves with jasmine flowers, allowing the scent to absorb.
In skin care, jasmine is used for more than just its perfume. Jasmine flower oil is rich in active compounds to provide antioxidant, moisturizing and brightening effects to the skin. Moreover, it is non-irritating and non-sensitizing so ideal for sensitive skin types.
Widely used in aromatherapy for its uplifting and calming fragrance, jasmine is also a powerful antioxidant when used in topical skin care treatments. Jasmonic acid, an organic compound found in several plants including jasmine, is produced in response to stress when the plant is damaged, thus playing a role in defense and healing. And isn't that just what we look for in an effective antioxidant? If you've been following our blogs, you'll know that we think antioxidants are one of the cornerstones of a good skin regimen especially in combatting the free-radical damage responsible for the visible (and hidden) signs of aging.
Like many natural oils and oil extracts, jasmine flower oil also helps treat dry skin, providing hydration and increasing the skin's elasticity without clogging pores. Surprisingly, jasmine flower oil also packs a punch behind its beauty: various scientific studies within the last decade have gone on to pit jasmine oil's antibacterial powers against some strains of E. coli and S. pyogenes. Three guesses who won?
We're so enamored with jasmine flower oil that we've included it in Apothekari's Bamboo Lemongrass Body Polish and perennial favorite Shea Body Butter. In fact, we don't know of a single person who hasn't fallen in love with this heavenly-scented and skin-softening wonder.