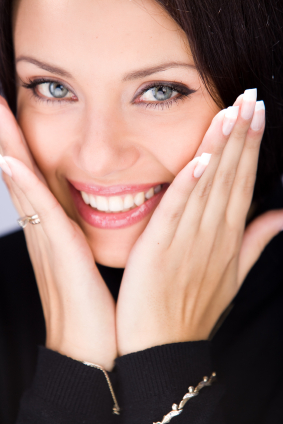 Besides facial wrinkles and age spots, your hands can actually give away your age. And that's because along with the face, your hands are one of the most exposed parts of your body. Not only do we put them through the rigors of our daily work, but they're also exposed to damaging environmental influences, such as harsh weather and UV radiation. It's important to take preventative measures to ward off the premature aging effects of these influences. Today, I'll describe the benefits of using moisturizers and sunscreens as part of your anti-aging skin care routine for your hands.
Using Moisturizers
It's common for hands to become incredibly dry when they're constantly exposed to the weather and sun. If neglected long enough, they can become chapped, cracked, and lifeless looking. In severe conditions, they might become so dry that they begin bleeding. You should be using a well formulated moisturizer repeatedly throughout the day. Whenever you wash your hands, apply it by thoroughly massaging it into your skin. Apply it again whenever your skin calls out for moisture. Ideally, you should try to have access to a moisturizer wherever you are (in your car, at work, and at home).
In addition to emollients, moisturizers can contain antioxidants, skin lighteners and sunscreen. These additional ingredients can protect skin by fighting against damage or helping to reverse some of the effects of aging.  
Protection From UV Radiation
Most people realize that the sun's UV rays can cause long-lasting damage. Because your hands are constantly exposed, they're extremely susceptible. Part of the damage is caused by damage due to free radicals, unstable molecules that can speed up the aging process. This damage is accelerated by UV radiation, resulting in the loss of collagen as well as DNA damage and other effects. Your hands should not be neglected from protection with a broad spectrum product that blocks both UVA and UVB rays. UVA rays, in particular, can penetrate deeply into the skin, causing wrinkles and other signs of premature aging.
Those are the basics of an anti-aging skin care routine for your hands. The important thing to remember is that their constant exposure to the weather and UV radiation makes them extremely vulnerable to cellular damage. Over time, that can cause them to lose their youthful appearance. Below are a few highly-effective formulations that you can use for protection.
Lac-Hydrin Lotion – This exfoliating lotion clears away dead skin cells and will sooth dry, rough and itchy skin anywhere on the body. 
La Roche Posay Hand Repair Cream – For severely dry hands, this moisturizing solution restores the skin's protective hydrolipidic layer, offering resistance from the damaging effects of the environment.
La Roche Posay Iso-Urea – This formula hydrates and rids dry skin of roughness by restoring the protective hydrophilic film of the skin.
Anthelios Sunscreens – offer broad spectrum UVA/UVB protection against the sun's UV rays. There are a range to choose from; apply to hands and rest of body.