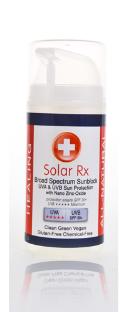 Keys Solar Rx SPF 30 is one of our top selling sunscreens at PhaMix. And for good reason.  Rated as a recommended sunscreen by the Environmental Working Group, Keys Solar Rx is formulated with all natural zinc oxide along with a range of safe botanical ingredients including avocado oil, which can help to fade brown spots.
The makers claim that Keys Solar Rx can also help rosacea or redness sufferers due to the use of uncoated zinc. Studies have shown that uncoated zinc can minimize redness when used in concentrations of 6 to 8%. Solar Rx contains 18.5%!
Vegan, gluten-free, and soy-free, Keys Solar Rx is produced without animal testing, is chemical free and contains no preservatives. Beyond this top seller, we carry a selection of chemical free sunscreens including Cliniderm SPF 45,  Heiko Sunscreen SPF 40 For Kids and the full range of Colorescience Sunforgettable SPF 30 Powders and Primers.