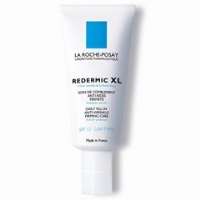 Redermic XL – an effective boost for collagen
For years, collagen creams have been available for skin care. They're often advertised as a solution for rebuilding the collagen fibers underneath your epidermal layers. While collagen can deliver benefits to skin, contrary to what manufacturers claim, it does not have the ability to rebuild or replace lost collagen.
Collagen Cannot Penetrate Skin Deeply
Collagen is a structural protein created in your dermis (below your top layer of skin, the epidermis) that provides both support and elasticity for your skin. As we age, the production of collagen diminishes. And over time, the collagen fibers within your skin deteriorate. Skin can start to look tired.
Although collagen creams cannot penetrate the skin to build new fibers, they are very useful as effective moisturizers.
Collagen is a Good Moisturizer
Collagen in skin care formulations helps to moisturize skin and may prevent loss of moisture. This can be particularly beneficial to dry skin. And although collagen is one effective moisturizer, it doesn't preclude the need for other skin beneficial ingredients such as antioxidants, other effective moisturizers and topical exfoliants.
Can You Build Collagen?
Although topical collagen won't help you to rebuild new collagen, there are agents that have been shown clinically to boost its production. This includes agents such as vitamin C, madecassoside, soy, certain peptides and retinol.
If a collagen boost is what you're after, here are some effective products to consider:
La Roche Posay Active C XL – formulated with vitamin C at an effective 5% concentration PLUS a photostable, broad spectrum SPF 12 protection with Mexoryl XL and Mexoryl SX.
La Roche Posay Redermic XL – like Active C XL, Redermic XL combines vitamin C and effective sun filtering agents with madecassoside, another effective collagen booster.
Reversa Skin Firming Gel – formulated with soy isoflavones and other botanical extracts to boost collagen production
Neostrata Wrinkle Repair – 5% Matrixyl (a clinically effective concentration) has been shown to help eliminate fine lines and wrinkles by stimulating collagen synthesis
Green Cream – formulated with retinol, this effective formulation not only stimulates collagen production but also can help to reverse the signs of sun damaged skin.