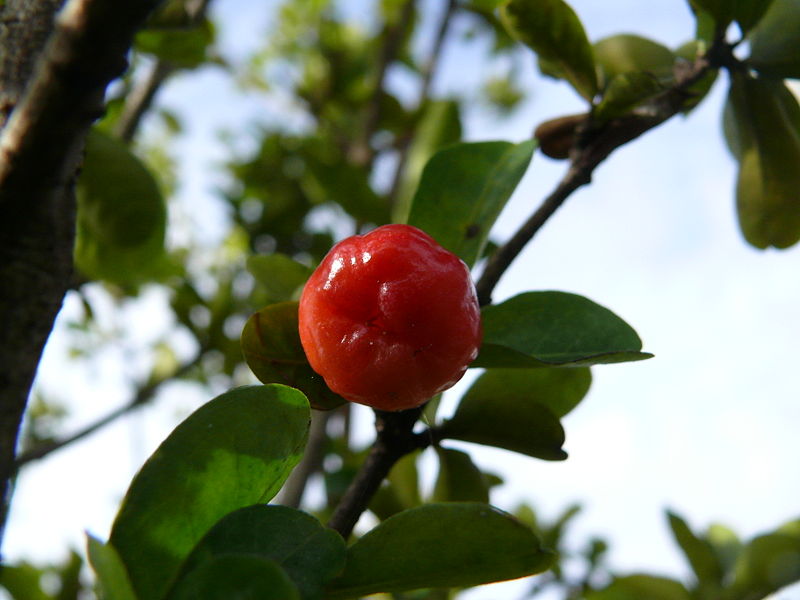 Acerola, a cherry-like fruit with high antioxidant activity, can now join the ranks of acai berry, blueberries and pomegranate in skin care formulations. Prevalent in drinks, yogurts and soups, acerola first appeared in Japanese skin care products at least five years ago. Niche skin care brands have started incorporating it into their facial care products for its Vitamin C rich properties. And it can also be found in hair care and cosmetics. In today's post, we'll look at acerola to help you decide if its inclusion in skin care products can provide benefits.
What is Acerola?
Acerola (Malpighia glabra, M. emarginata) is a tree native to the West Indies. Also found in northern South America, Central America, Texas, and Florida, it is a small shrub or tree that has 5-petaled flowers ranging from pink to white in color. The fruit of the Acerola tree is bright red and cherry-like containing several small seeds. When ripe, the fruits are soft and pleasant tasting, containing about 80 percent juice.
Acerola Benefits
The Acerola fruit were traditionally used to treat dysentery, diarrhea, and liver disorders. They are considered to be excellent sources of vitamin C, exceeding the vitamin C concentration of oranges. They are also a good source of other nutrients including B vitamins, calcium, iron, bioflavonoids, phosphorus, malic acid, pantothenic acid, potassium, and magnesium. For these reasons, acerola is widely used as a natural health supplement.
Most of the skin benefits associated with acerola come from its high vitamin C concentration. These include:
Antioxidant action to protect against free radical damage that can accelerate skin aging
Ability to even skin tone and brighten skin
Boosting production of collagen and elastin
Increasing the ability of skin to retain moisture
As well, acerola contains mineral salts, which has shown to aid in the remineralization of tired and stressed skin. And, it's demonstrated benefit in increasing the hydration of skin.
Look for acerola in a range of skin care products including formulations to help protect against free radicals, skin lightening solutions as well as moisturizers. Although it sounds like a promising ingredient for skin care, keep in mind that at present, no studies exist to back up any of the claims associated with its benefits.
If you're after the Vitamin C benefits of Acerola, consider UltimaSkin Potent C, La Roche Posay Active C or La Roche Posay Redermic. All 3 formulations contain stabilized Vitamin C and will deliver many of the skin benefits attributed to acerola.