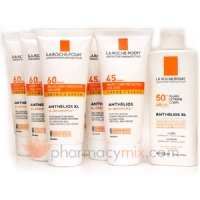 La Roche Posay, makers of highly coveted Anthelios sunscreens with Mexoryl SX and Mexoryl XL,  now include Mexoplex. Mexoplex is a brand new blend of ingredients that includes the Mexoryl molecules along with Tinosorb S, another photostable and UVA/UVB blocking sun filter.
Ideal for all skin types including sun sensitive or sun allergy prone skin, Mexoplex also contains Eldew, a photostabilizing oil that enhances the stability of the sun filters. This allows Anthelios sunscreens to be formulated with less chemical filters, reducing them by 15%! The result is increased UVA/UVB protection in preparations that are better tolerated by sensitive skin types.
Mexoryl SX and Mexoryl XL are patented by L'Oreal (the makers of Anthelios sunscreens). Combined together, they work to  protect skin against UV rays. Studies have shown that not only are they photostable, but that they are also safe. They are not absorbed through the skin so you don't have to worry about them circulating in your body. Mexoplex harnesses the safety and efficacy of the Mexoryl molecules and combines it with Tinosorb S. If you're not familiar with Tinosorb S, it too is  photostable. It offers broad spectrum protection from the full range of UVA and UVB rays. It helps to stabilize other sun filters. And, it seems to have a good safety profile – it does not disrupt hormones or cause skin irritation.
Find new Mexoplex in the following Anthelios sunscreens: 
Anthelios Fluide Extreme Face SPF 50+
Anthelios Fluide Extreme Face Tinted SPF 50+
Anthelios Melt-In Crème SPf 50+