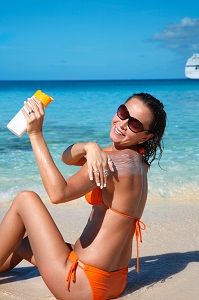 We love that sunscreens have been flying off the shelves lately because it means you've got sun safety on your mind, but while protecting your face, arms and legs are a given, there are definitely more than a few spots that are commonly missed when applying sunscreen. So while you're generously putting on your favorite sunscreen before heading out for a day in the summer sun, don't forget to give a little love to these 10 often neglected areas:
1. Lips:  The skin on the lips is some of the thinnest on the body, and unprotected exposure to the sun is not only drying but dangerous.  There's no shortage of lip balms and lipsticks with SPF coverage now so apply regularly and reapply often, especially after eating and drinking.
2. The part in your hair:  The best protection for the head is a hat but when that's not practical, running a solid sunscreen like Anthelios XL SPF 60 Targeted Stick along the part is an easy and effective way to get coverage.
3. Ears:  A bit tougher to get even application of sunscreen but a combination of a stick and a lotion for the lobes, rims and back area will get the job done.
4. Decolleté:  With fewer melanocytes (cells are which can help to protect skin from the sun), this area of the neck and upper chest is especially prone to signs of aging and sun damage.
5. Back of the neck:  Hot weather means we wear our hair up more often, exposing the back of our neck.  This is one of the most missed areas for men as well.
6. Under the chin:  UV rays reflect off concrete, sand and water.  Even though we don't think the area under our chin is exposed to the sun, it's possible to get sunburned here too!
7. Top of the feet:  Whether it's because you don't want the sand to stick to your feet or because they seem so far away to reach, the tops of the feet and toes often don't get any sunscreen at all.  Avoid the 'sandal tan' by giving your feet a good coating of sunscreen, and reapply after swimming.
8. Hands:  The one place we can't hide our age!  Hands are exposed to the sun as much as our faces but never seem to get UV protection.  By slipping a tube of sunscreen in our purse and glove compartment, there's a better chance that our hand-working hands get the attention they need.
9. Back of the knees:  Another "out of sight, out of mind" area that gets missed, especially if you're sitting down while applying sunscreen to the rest of your legs.
10. Between the eyes:   If you're concerned about sunscreen running into your eyes, choose either a stay-put solid stick application or a sweat-proof formula like Ombrelle SPF 45 Sports Lotion.  Add a pair of sunglasses and you're good to go.