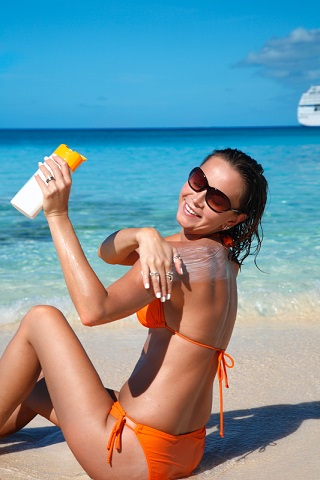 With summer being just around the corner, this is the season for Anthelios sunscreens.  At the risk of sounding like a broken record, wearing sunscreen should be pretty much a given every day of the year, but for many of us, stocking up on sunscreen for the warm weather ahead is an annual affair.  So what better time to talk about our favorite line, Anthelios?
A rose by any other name may still be a rose, but when it comes to sunscreens, we know from experience that not all are made equal.  So what makes Anthelios so special?  Well, let me count the ways:
1. Mexoryl Technology.  Anthelios is formulated with Mexoryl SX and Mexoryl XL, exceptionally effective chemical sun filters widely used in sunscreens throughout Europe and Canada.  Mexoryl SX and XL are also highly photostable, meaning they don't degrade in sunlight which significantly affects a product's efficacy.   Combined with other active sunscreen ingredients such as titanium dioxide and Tinosorb S, Anthelios provides broad-spectrum protection against UVB rays that burn and UVA rays that can age our skin prematurely.  Anthelios XL SPF 60 Melt in Cream is our most popular sunscreen and the one that our customers hear about from their dermatologists.
2. Wearability.  No matter how effective a product is, nobody wants to wear it if it doesn't feel good on the skin. Anthelios sunscreens are luxuriously formulated for easy absorption, light weight texture and a pleasing finish.  Whether you have dry, combination or oily skin, we're confident that Anthelios will have a sunscreen that will suit your needs and that you'll want to wear every day. This brings us to …
3. Selection.  Anthelios has a wide selection of sunscreens that takes into account skin type, skin condition and lifestyle.  Looking for tinted versions and the newest lightweight lotions that won't leave a white finish?  Anthelios has that as well.  And if you're having trouble deciding which one is right for you, give us a call.  Being sunscreen fanatics, the staff here at PhaMix have tried just about every one we carry.
Choosing the right sunscreen for the summer just became easier.  Finding a flattering bathing suit? Not so easy.