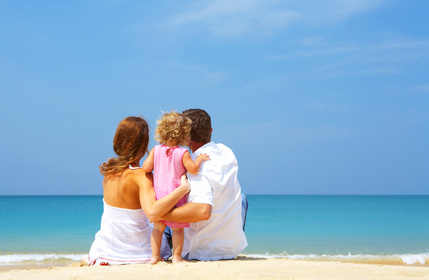 Knowing how to choose the perfect sunscreen can be a daunting task when faced with the seemingly endless varieties available.  Fortunately, we're here to help make that experience easier.
Customers call us every day, looking for something that will protect them against both UVA and UVB rays as well as a product that they will enjoy using.  Here are a few of our top requests:
No White Marks: Sunscreens are notorious for leaving a white finish on the skin, a deal breaker for many people, me included. The sunscreen gods have heard your cries for UV protection that is as invisible as possible.  Anthelios XL SPF 60 and SPF 30 Lightweight Lotions are both formulated with patented Mexoryl technology and, along with other sunscreen filters, provide excellent broad-spectrum protection against harmful UVA and UVB rays.   The best part?  They have a dry-touch finish with no white marks.
Dry Feel, No Tacky Finish:  When the warm weather hits, the last thing you need is a sunscreen that makes you feel more sticky. For the face, our top pick is Anthelios XL SPF 50+ Crème Fondant with its luxurious feel and moisturizing formula.  For the body, you can't go wrong with Anthelios XL SPF 45 Spray Lotion with its dry velvety finish.  On beach days, it works well on both face and body as it provides a matte canvas for makeup. This is the one that the family will love, and when the kids – even picky teenagers – don't complain, you know it's a winner.
Mexoryl Technology: Widely available in Europe and in Canada for many years, sunscreens with Mexoryl Technology (Mexoryl SX, Mexoryl XL and other effective sun filters) are, in our opinion, the most effective protection against UVA and UVB rays that cause premature aging and burning.  Judging by the number of customers who tell us that their dermatologists recommend it, we're not the only ones singing the praises of Mexoryl.  Anthelios XL SPF 60 Melt in Cream has been a favorite for years. Customers love its combination of Mexoryl XL, Mexoryl SX and titanium dioxide, a mineral sun filter that provides an additional layer of protection against the sun's rays.
Tinosorb S:  As consumers become more aware of the dangers of sun exposure, greater importance is placed on finding an effective sunscreen.  More specifically, more customers are looking for sun protection that contains not only Mexoryl but also Tinosorb S, a chemical filter known for its photostability with a good safety profile – it isn't associated with skin irritation and lacks hormone disruption effects associated with some older sun-filtering agents.  It also has the added benefit of helping to stabilize other sun filters such as avobenzone from degradation.  Tinosorb S can be found in Anthelios XL SPF 45 Spray, Anthelios XL SPF 50+ Crème Fondante, Anthelios Fluide Extreme SPF 50+ for the body, and Anthelios XL SPF 45 Kids Lotion.
Still can't decide?  You know who to call.