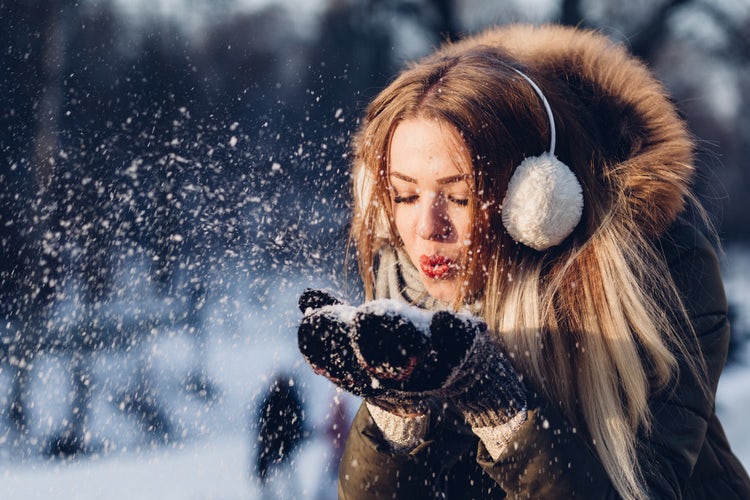 Anthelios sunscreens are a staple during the hot summer months but as the thermometer drops, many of our sun protection products end up on the shelf in the closet, waiting for the return of spring and summer.  But we've got 5 compelling reasons why Anthelios sunscreens should be within arm's reach year round (especially in the winter!):
UVA Rays are Prevalent 365 Days a Year, Even on Cloudy Days.  Unlike the burning UVB rays that are more intense in the summer, the aging UVA rays are bombarding us any time the sun is out.  These are the longer rays that penetrate deeper and can cause hyperpigmentation, wrinkles and other signs of aging.  Exposure to UVA rays also increases our risk of developing skin cancer.  Applying sun protection every day should be second nature, and we think we've found the one product that not only provides excellent sun filters like Mexoryl XL and Tinosorb S but also gives us a little glow: Anthelios XL SPF50+ BB Cream.  Best suited for medium to olive complexions, this handy BB Cream also contains antioxidant Baicalin for extra free radical protection against those constant UVA rays.
UVA Rays Can Pass Through Windows.  Even though we spend more time indoors in the colder months, UVA rays can penetrate glass, exposing us to constant skin damage even when sitting by the window or driving in our cars. And sadly, that coveted corner office means we're exposed 8 hours a day, 5 days a week, no matter the weather or season.  If your preference is for a moisturizer and sun protection in one easy application, you can't do better than Anthelios KA SPF 50.  This daily moisturizer is designed to provide long-lasting hydration and broad-spectrum protection that's comfortable, fragrance-free and ideal for all skin types.
UV Radiation Increases with Altitude.  For those who live for the slopes, keep in mind that UV radiation increases with altitude as much as 5% for every 1000 feet above sea level.  Factor in the reflective properties of snow and ice and the UV rays can increase in intensity by as much as 80%-90%!  Before you strap on the skis and snowboards, apply a generous amount of sunscreen and slip an Anthelios XL SPF 60 Targeted Stick into your pocket for easy reapplication.  It takes less than 10 seconds and will cut down the chances of the dreaded "raccoon eyes".
Dry Winter Skin is More Susceptible to UV Damage. Cold winter conditions, like snow and wind, can wear away sunscreen and its effectiveness as quickly as the summer heat.  Although we may not be sweating like we do in the hotter months, sunscreen in the winter still needs to be reapplied every 2 hours to maintain a consistent level of protection.  After all these years, our most popular sunscreen is still Anthelios XL SPF 60 Comfort Cream.  Its formula contains one of the highest amounts of Mexoryl SX and Mexoryl XL (at 3% each) plus its creamy and hydrating texture helps combat the dryness that is so common in winter.  When skin becomes dry and unhealthy, it loses its ability to maintain a strong barrier against external assaults, and that includes damaging UV rays.
The Earth is Closest to the Sun in the Winter and Farthest in the Summer.  The truth is that for many of us, this makes no sense at all.  We equate heat with being closer to the source, whereas in fact, the tilt of the Earth's axis in the dead of winter brings us closer to the sun than in the middle of summer, thus making January the peak of sunscreen season!