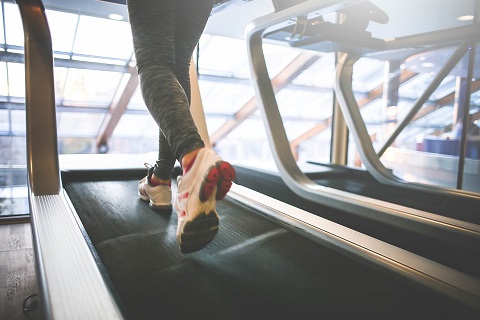 We're just about a month into the New Year, and for those of you who haven't given up on the resolution to exercise more, we've put together our top 4 list of beauty essentials for the workout bag that will, hopefully, make it a little easier to get into the gym more regularly and get out looking as fresh as a daisy:
1. Dry Shampoo: Initially developed for hospital patients unable to do a full shampooing of their hair, dry shampoo has gone mainstream and more. Not only does it soak up excess oil when there's just no time to jump in the shower, it can also be used for adding volume to naturally flat hair, for extending time between regular shampoos if you're going the "no-poo" route, and even for giving your hair a bit of "grip" when creating a complicated up-do. If that weren't enough to get you hooked, dry shampoo now comes in different forms such as powder, aerosol spray and mousse to best suit your personal preferences. Pure genius.
2. Micellar Cleanser: The science behind this cleanser is simply mind-boggling: molecule clusters are made up of a water-loving half on the outside and a water-hating half on the inside. When the solution is applied to the skin with a bit of pressure, the molecule breaks apart, grabs anything off your skin that isn't water, then closes back up, essentially trapping the dirt and oil inside the molecule and removing it from your skin. The practicality of this cleanser, however, cannot be easier to understand: apply with cotton pad, wipe face and say goodbye to oil, dirt, sweat and even makeup. No rinsing required.
3. Anthelios XL BB Cream: I've got to say it: the love affair continues with the newest of the Anthelios line! Not only does it provide very high facial sun protection with Mexoryl XL and Tinosorb S but it absorbs quickly, never feels sticky and feels feather light. While the slight tint helps even out the skin tone, the finish isn't matte to the point of leaving my face looking completely devoid of any, well, life. The skin looks naturally fresh, and with that post-workout glow, you won't even need blush.
4. Tinted Lip Balm with SPF: Doing cardio at the gym, yoga at the local studio or getting out for a run can dehydrate the body and leave you with dry, dry lips – especially in winter. I always make sure to carry an SPF lip balm to soothe and provide sun protection on one of the most neglected parts of the body. Although a tinted product is completely optional, it's a foolproof and effortless way to look more finished, even on the go.
If you're part of the 33% of people who have already fallen off the fitness wagon by the beginning of February, no worries. There's no law that says you can't jump back on.