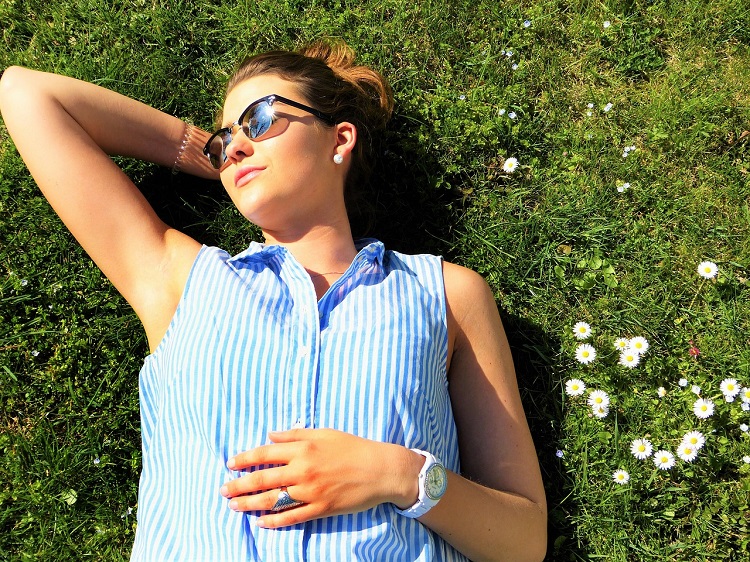 With spring well under way and temperatures rising, it seems a fitting time to discuss sun protection and answer some of the sunscreen FAQ that come our way.
While many of us are concerned with the impact of the sun on keeping our skin looking youthful, both the Canadian Dermatology Association and the American Academy of Dermatology maintain that sunscreen should be used by EVERYONE regardless of age, gender or race to help prevent skin cancer.
Dermatologists are unanimous about daily sunscreen being the single most important thing you can do to maintain the health of your skin. To ensure that you give your skin the best protection possible, there are a few things to keep in mind when applying sunscreen. Hopefully, these sunscreen FAQ will give you food for thought:
What SPF Should I Wear? Most skin specialists recommend a minimum of SPF 30 which offers broad spectrum protection against both UVA (Aging) and UVB (Burning) rays.  Our customers are partial to Anthelios XL SPF 60 Comfort Cream for its formulation containing Mexoryl SX and Mexoryl XL.
When Should I Apply Sunscreen? Sunscreen should be applied every day, year round. Even on cloudy days, up to 80 percent of the sun's harmful UV rays can penetrate your skin.
How Much Sunscreen Should I Apply? Use enough to generously coat all skin that will be not be covered by clothing. Studies have shown that most people don't apply enough. Follow the guideline of "1 ounce, enough to fill a shot glass," which dermatologists consider the amount needed to cover the exposed areas of the body. If you're applying just to your face, 1/4 teaspoon is generally considered an adequate amount. Adjust the amount of sunscreen applied depending on your body size.  Apply sunscreen to dry skin 15 minutes BEFORE going outdoors. Don't forget your lips, ears, and feet if they will be exposed. Reapply sunscreen approximately every 2 hours or after swimming or perspiring as per directions on the container.
Does Sunscreen Expire? Sunscreen ingredients can break down over time, compromising the effectiveness of the product, so you should not use a sunscreen after its expiry date. Also, sunscreens are often kept in hot temperatures ‐ in the glove compartment of a car or in a beach bag ‐ conditions which can accelerate the deterioration of the product.
Is Sunscreen Safe? Dermatology Associations support the use of sunscreen as an effective and safe means to provide protection from the sun's harmful rays. There is strong scientific evidence of the adverse effects of UV exposure in contrast to the hypothetical negative effects of sunscreen on your health.
While sunscreen is important, it shouldn't be your sole method of sun protection. The following tips can help to avoid damaging skin and putting it at risk for developing skin cancer:
Seek shade when appropriate, remembering that the sun's rays are strongest between 10 a.m. and 2 p.m.
Wear protective clothing, such as a long-sleeved shirt, pants, a wide-brimmed hat and sunglasses, when possible.
Use extra caution near water, snow and sand as they reflect the damaging rays of the sun, which can increase your chance of sunburn.
Avoid tanning beds. Ultraviolet light from the sun and tanning beds can cause skin cancer and wrinkling. If you want to look tan, you may wish to use a self-tanning product, but continue to use sunscreen with it.