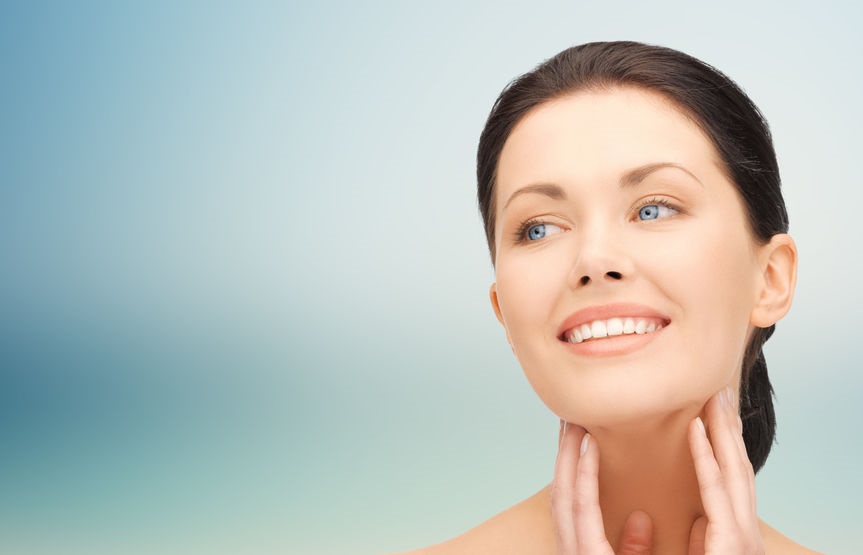 The neck and décolleté have long been neglected, but judging by the number of products available that target just this area, the skin below the chin may just be coming into its own.  Clearly, there is an interest out there by consumers, not only based on the growing number of specialized creams and lotions but also by niche-y "anti-aging" bras, masks and stick-on patches that promise to keep the décolleté firm and wrinkle-free.
The Neck and Décolleté – Why Skin Here is Different
Loss of elasticity in the neck and decolleté can start at any age and is influenced by genetics as well as by environmental factors and lifestyle choices.  Not only is the skin here thinner and more translucent than skin covering much of the rest of the body, but melanocytes (cells which can help to protect skin from the sun), are found in lesser quantities here, resulting in skin that is more readily damaged by sun exposure.
Despite the fact that we now naturally extend our makeup and foundation past the jawline to create a more seamless complexion, can we say the same about the care and protection of the delicate skin on our neck and chest area?
3 Essential Steps to Caring for the Neck and Décolleté
We believe what's good for the face is good for the neck and décolleté.  In fact, our 3-Step Skin Care routine, with a few tweaks, is equally applicable in making sure that the skin below the chin is as well taken care of as above:
As the skin is thinner and more delicate, use a cleanser that is gentle and forgiving. We like Apothekari Cloud 9 Foaming Cleansing Crème to soothe while getting rid of dirt, makeup and impurities.
Frankly, the neck gets almost as much sun exposure as the face so protecting it with an effective broad-spectrum sunscreen like Apothekari Shade SPF 30 is really a no-brainer.  While you're at it, extend your antioxidant treatment down the neck and onto the décolleté to help fight free radical damage that can cause wrinkles and dark spots.   We're partial to Apothekari Bespoke Vitamin C serum in 10% and 15% strengths.
With fewer oil glands to keep the skin supple and a lack of plumping fat tissues, the skin in the décolleté area warrants extra attention to keep it hydrated.  Look for moisturizers and targeted treatments containing ingredients that firm and hydrate like peptides, amino acids and hyaluronic acid to boost elasticity and increase skin moisture.
Products to Consider
If you're looking for a targeted treatment, consider Neostrata's Triple Firming Neck Cream, part of the innovative dermaceutical line that continues to introduce cutting-edge technology to skin care.  Formulated with a complex of three ingredients, each with a unique action to deliver a lifted and firmer appearance. NeoGlucosamine, NeoCitriate and Pro-Amino Acid work together to improve the appearance of sagging skin and target the volumizing matrix. Neostrata Triple Firming Neck Cream is also enriched with a restorative fruit stem cell extract.
You may also want to try Neostrata's Bionic Lotion, a skin-fortifying moisturizer for the face and body that combines gluconolactone and lactobionic acid.  Together, this duo goes by the name of polyhydroxy acid and acts as a humectant to attract and bind moisture to the skin while providing gentle exfoliation.