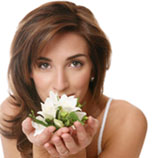 La Roche Posay, a dermatologist recommended skin care line, markets two product lines containing topical Vitamin C. And you've possibly already read a lot about the benefits of topical Vitamin C which include:
an increase the synthesis of collagen – which helps to thicken the skin
a reduction in skin damage caused by free radicals through its antioxidant properties
an effective depigmenting agent at concentrations 5% or higher
an improvement in the appearance of sun damaged skin
Both Redermic and Active C contain a 5% concentration of Vitamin C as L-ascorbic acid. L-ascorbic acid is a stable form of Vitamin C. If not formulated properly, Vitamin C oxidizes (breaks down) rapidly and not only loses its effectiveness, but also has the potential to cause skin damage by increasing the formation of free radicals.
Active C was introduced first by La Roche Posay and contains Vitamin C in a 5% concentration. It's designed for women over 30 who wish to correct wrinkles and fine lines.
Like Active C, Redermic contains 5% Vitamin C but has the added benefit of madecassoside, a botanical ingredient. In clinical studies, madecassoside has been shown to increase collagen synthesis. Redermic also contains hyaluronic acid, a very effective moisturizer, which can be a bonus to dry, dehydrated skin. Redermic is ideal for women aged 40+ who have deep wrinkles and loss of skin firmness.
Both Redermic and Active C are available in formulations for either dry or normal/combination skin types. Complementary eye treatments are also available.