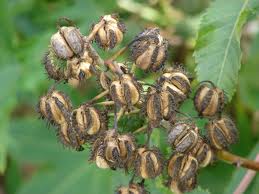 Castor seed oil comes from the castor oil plant (Ricinus communis), a species of flowering plant. Castor is indigenous to the southeastern Mediterranean basin, Eastern Africa, and India, but is widespread throughout tropical regions.
Castor seed oil is rich in triglycerides (a type of fat) and has a wide variety of uses in medicine and other applications. Castor oil makes a good motor lubricant, and an extract has demonstrated analgesic, antihistamine and anti-inflammatory properties. The ancient Egyptians used it as a laxative and Cleopatra is reputed to have used it to brighten the whites of her eyes.  In India, its use has been documented as a laxative and is regularly given to children for de-worming.
When it comes to skin care, castor oil has traditionally been used as an emollient to prevent dryness. It is also used to help tame frizzy hair. You can find castor oil as a base for many personal care products.