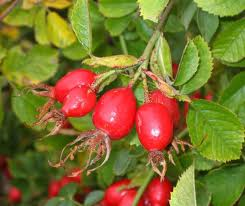 Most of us are familiar with rosehip tea with its deep red color and tart, fruity flavor, but when thinking about active ingredients in skin care, rosehip oil doesn't immediately spring to mind.
Both the tea and the oil come from the seed of the rose plant. The pods that remain after the rose petals fall off are left to ripen and harvested in the autumn. The pods are then pressed to extract rosehip oil while the dried rosehip skins are used to make tea. When used in topical treatments, rosehip oil provides the same vitamins and antioxidants to our skin as the tea provides to our bodies.
Although it has been used for generations in Chile, rosehip oil has only recently been pushed into the spotlight when Victoria's Secret model Miranda Kerr extolled its virtues and credited it for her glowing complexion. Rosehip oil is a rich source of:
Vitamin C. One of the darlings of anti-aging skin care, vitamin C fights free radicals, increases collagen production, improves the appearance of sun damaged skin, and lightens hyperpigmentation.
Omega 3, 6, and 9 oils. These fatty acids provide moisture to the skin and can help deliver more radiant and elastic skin. Fatty acids also maintain the skin's natural oil barrier by providing moisture and preventing dryness and flaking, a plus for eczema sufferers. They have also been shown to heal scar tissue.
Vitamin A. Retinol, a derivative of vitamin A, is one of my favorite skin care ingredients. It's hard to argue with the myriad of clinical studies showing vitamin A's benefits. It increases cell turnover, reduces pigmentation, stimulates collagen production, manages acne and promotes an even skin tone.
If you're considering adding rosehip oil to your skin care regimen, look for a pure product that is manufactured using a cold-press process, undiluted by other chemicals or artificial additives. Rosehip oil can be added to your favorite moisturizer or used on its own. Keep in mind, however, that even all-natural essential oils may cause irritation. Like any new product, do a patch test and give your skin some time to adjust.
With so many good things going for it, rosehip oil's greatest talent may be its ability to keep a low profile.