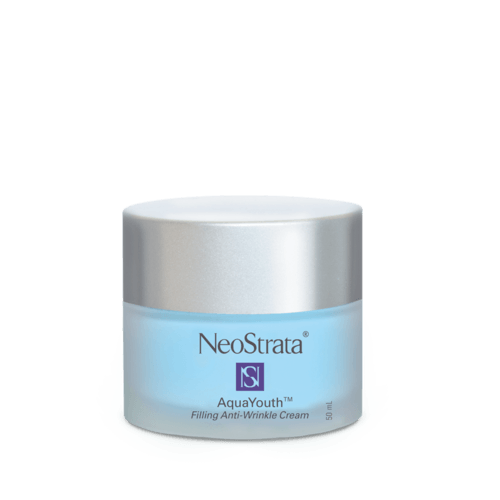 New! Neostrata AquaYouth Filling Anti-Wrinkle Cream harnesses the power of pure hyaluronic acid.
Featuring a powerful synergistic hydration system, combining 0.2% of pure hyaluronic acid with two hyaluronic acid derivatives, 1% of Hylasome® EG10 and 4% Hydroviton PLUS, Neostrata AquaYouth Filling Anti-Wrinkle cream boasts superior long-lasting plumping hydration that fills wrinkles and intensely hydrates, while restoring skin's barrier function. Key ingredients also include Matrixyl 3000, a combination of two peptides with clinically proven anti-wrinkle efficacy. Read more about Matrixyl and peptides here.
Suitable for all skin types including sensitive skin and ideal for fine lines, wrinkles and dehydrated skin.
Based on a clinical study conducted by an independent laboratory on 20 subjects, Neostrata Aquayouth Filling Anti-Wrinkle Cream:
Provides instant and long lasting hydration for up to 48 hours
Provides a significant skin plumping effect after 2 weeks
Helps visibly fill fine lines and wrinkles
Plus, it's non-comedogenic and non-irritating.
This collection also includes Aquayouth Filling Anti-Wrinkle Eye Cream, ideal for fine lines, wrinkles, crow's feet and dehydrated skin. Its unique metallic applicator cools and soothes eye contours.