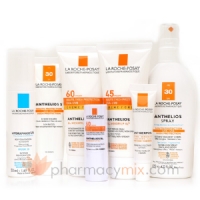 Anthelios sunscreens, well known for providing effective protection against UVA and UVB rays, are formulated with a patented sun-filtering complex that includes Mexoryl SX, Mexoryl XL, titanium dioxide, avobenzone and octocrylene. This French line is trusted to protect skin against sunburn and premature aging by dermatologists and savvy users alike.
Not to rest with its winning combination of effective ingredients, La Roche Posay has reformulated many top selling products in the Anthelios sunscreen line to contain Tinosorb S. Also known as bemotrizinol, Tinosorb S is a chemical sun filter that has been approved for use in sunscreens in Canada, Australia and the European Union. It blocks both short and long UVA rays and UVB rays as well. That's great news because it means that the reformulated Anthelios sunscreens deliver even greater broad spectrum UV protection, especially against deeper penetrating UVA rays.
Tinosorb S is photostable, meaning that it will continue to offer protection over time. And, it has an additional benefit in helping to stabilize other sun filters such as avobenzone from degradation. The ingredient has a good safety profile – it isn't associated with skin irritation and lacks hormone disruption effects associated with some older sun-filtering agents.
Tinosorb S may be found in these newly reformulated Anthelios sunscreens:
• Anthelios Dermo Pediatrics SPF 45
• Anthelios Spray SPF 45
• Anthelios Fluide Extreme SPF 50+ Visage
• Anthelios Fluide Extreme SPF 50+ Visage Tinted
• Anthelios Creme (Melt-In Cream) SPF 50+
• Anthelios Creme (Melt-In Cream) SPF 50+ Tinted
• Anthelios Fluide Extreme SPF 50+ Body/Corps