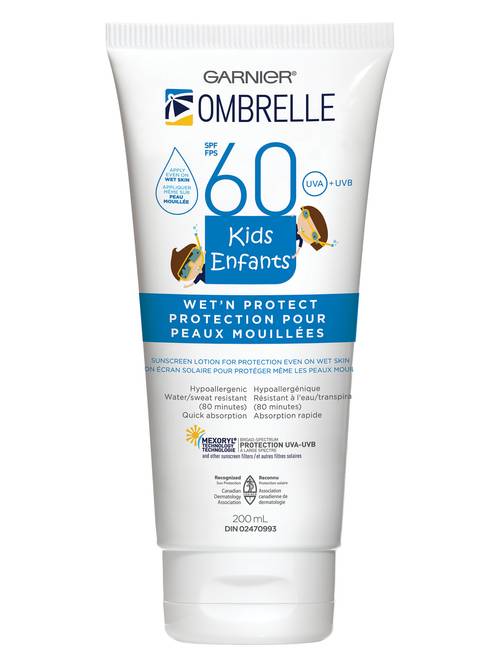 With summer well on its way, we've added two new Ombrelle sunscreens. Formulated with the same Mexoryl technology found in Anthelios sunscreens, they offer high SPF protection from UV rays for you and your family.
Ombrelle Kids Wet 'n Protect SPF 60 Lotion
With a new formulation that includes Mexoryl XL, Ombrelle Kids Wet 'n Protect SPF 60 Lotion can be applied even on wet skin! Grab it for your new go-to on beach and pool days. It comes with these enviable features:
Non-greasy, non-sticky texture that is easy to apply and quickly absorbed
Hypoallergenic formula, free from colorants and fragrances
Non-comedogenic protection that is suitable for sensitive skin on both face and body
Water/sweat-resistant (up to 80 minutes)
And did we mention that it can be applied on wet skin? We love it!
Ombrelle SPF 60 Complete Lotion for Face & Body
Now featuring Mexoryl XL and Mexoryl SX, this perennial favorite has even more to love! Providing broad-spectrum UVA and UVB protection, Ombrelle SPF 60 Complete Lotion for the Face & Body is a lightweight lotion that's hypoallergenic, fragrance-free and colorant-free.
Want another good reason to love Ombrelle sunscreens? This Canadian company has access to cutting edge sunscreen technology thanks to its parent company l'Oreal, patent-holder of photostable Mexoryl sun filters.
Want Even More?
Perennial favorite Ombrelle SPF 60 Face Cream with Mexoryl XL and Mexoryl SX is a broad-spectrum moisturizing sunblock specifically formulated for sun sensitive skin. It provides photostable protection throughout UVA/UVB range as well as 60 times your natural protection against UVB rays. This formulation is almost identical to that of legendary Anthelios XL SPF 60 Cream.
Ombrelle SPF 50+ Face Stick is your 10-second sunscreen secret for all those often-missed spots like the tops of the ears and scalp.  Plus the stick's sheer portability and compact size mean no more excuses!