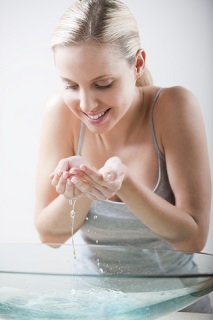 A common practice in Asia, double cleansing is a method of washing the face first with a water-soluble, oil-based cleanser and then with a foaming cleanser.   The theory behind double cleansing is that two steps are required to completely remove makeup, pore-clogging oils and dirt from the face.  And clean skin will be able to better absorb the active ingredients in your serum, moisturizer and skin treatments.
If you're thinking about incorporating the double cleansing method into your evening skin care routine, here's the how and why:
1.       On a dry face, gently massage a water-soluble, oil-based cleanser.  Rinse off with warm water and pat dry face.  This is often referred to as the precleanse.
This first step using an oil-based cleanser effectively "melts" away makeup and sunscreen.  And more importantly, in a case of "like attracts like", the oil molecules in the cleanser are able to latch onto the excess oils that can clog pores before being rinsed away.  Although we may not be familiar with cleansing oils, they have been used in Asia for decades, not unlike the BB and CC creams that have recently made such a big impact.  However, the science behind oil-based cleansers is certainly not new.  We only have to think back to the traditional cold creams that were so popular one or two generations ago.
2.       For the second step, use a foaming cleanser on a damp face.  Apply a small amount of cleanser in the palm of the hand, add a bit of water, then rub the hands together to build up the foam before gently massaging the foam on the face.  Rinse with warm water, pat to dry.
With the makeup and oil effectively removed from the surface of the skin in Step 1, the foaming cleanser can be geared toward your skin's specific needs, whether it be acneic, dry, or rosacea-prone.  My current favorite is Apothekari's Cloud Nine Foaming Cleansing Crème because it not only cleans gently without drying but it also contains antioxidants and stimulates collagen-production. 
Although we tend to want multi-tasking products to get the job done as quickly as possible, double cleansing may be a great way to maximize the results from other skin treatments. 
Do you already double cleanse?  We'd love to hear how it works for you.