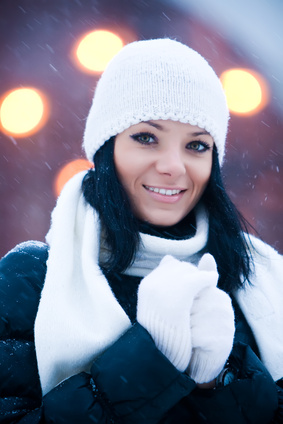 Even for those of us who are winter lovers (I'm a summer person myself), the challenge of controlling dry and flyaway hair can become a daily challenge.  The hot and humid days of summer and frizzy hair seem a distant memory now.  Just as our skincare routines need tweaking to adapt to the different seasons, so do the needs of our hair change.
Here are a few winter hair do's and don'ts to keep those locks looking healthy and gorgeous:
Do's:
The freezing temperatures outside and the drying heating inside can zap moisture from hair.  Use a moisturizing serum on dry hair to fight flyaways.  Apothekari Wild Crafted Argan oil works a treat to smooth the hair, give it great shine and cut down on static.  Argan oil also does double duty as a leave-in conditioner when applied to towel-dried hair.
Look for a conditioner containing ingredients that will lock in moisture, like panthenol.  Go one step further by choosing a shampoo and conditioner based on your particular hair type.
Use a weekly deep conditioning mask to replenish hair's moisture.
Just like the skin on our face and our body, our scalp can also get dry and scaly in the winter months. Control dandruff with specialized shampoos like  Dan Gard with zinc pyrithione.  Both are effective in getting the upper hand when it comes to those annoying (and embarrassing!) white flakes.
See your hairdresser regularly for trims to get rid of split ends.
Don'ts:
Resist the urge to overbrush.  This builds up static and contributes to flyaways.
Try to avoid overprocessing or stressing hair with flat irons, styling products that contain alcohol and blowdrying on the hot setting.  Let hair dry naturally whenever possible.
Never go outside with wet hair as the cold temperatures can freeze hair and lead to breakages and split ends.  You may have to sacrifice a few minutes of sleep to ensure that your hair is dry before you head out the door.
Rinsing hair with hot water can dry out hair, just as it can dry out the skin.  Stick to warm or tepid water.
If all else fails, there's always the trusty hat.