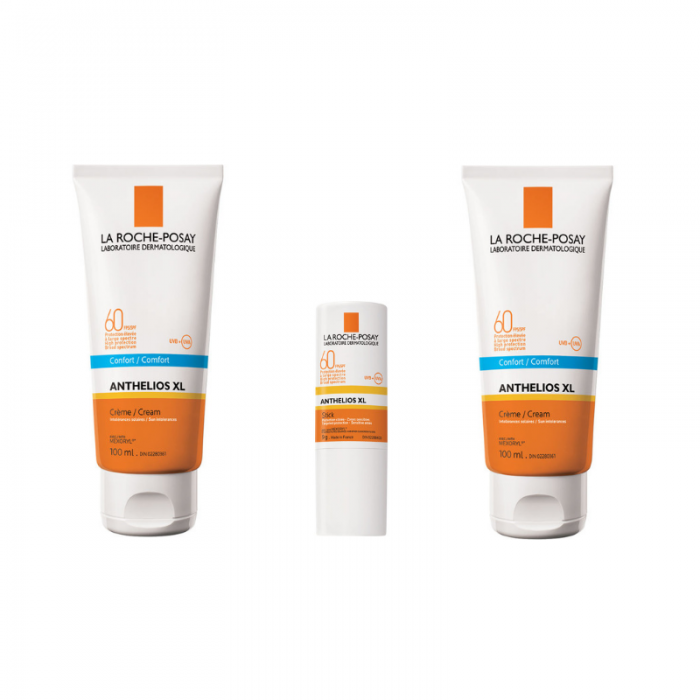 Mexoryl SX (ecamsule) and Mexoryl XL sunscreens from the Anthelios line have been some of our most popular sun protection products.  Our customers have often found out about these sun filters from their dermatologists, and after putting them to the test, they've discovered what we've known for years: that Mexoryl sunscreens provide exceptional protection.  But what makes them so special?
Broad Spectrum Protection from UVA and UVB rays
The UVB range of sunlight is is 280 to 320 nanometers, and the UVA range is 320 to 400. Mexoryl (ecamsule) sunscreens protect against UV wavelenghts in the 290-400 nanometer range. Since Mexoryl doesn't cover the entire UV spectrum, it is usually combined with other active sunscreen agents such as titanium dioxide, avobenzone (stabilized with octocrylene) to ensure broad-spectrum UV protection.
The sunscreen rating system currently used in Canada and the US only evaluate UVB protection – this is a product's sun protection factor or SPF. However, we now know that UVA rays penetrate deeper into the skin where they are responsible for more serious long term consequences such as wrinkles, photoaging and even some skin cancers.
Photostability
Mexoryl SX and Mexoryl XL are photostable UVA absorbers, meaning that they don't degrade in sunlight. Photostability is important because if a product is not stable when exposed to sunlight it decreases the efficacy of the product and reapplication is a must even when not exposed to water or during heavy exercise. This could be particularly inconvenient in a product when sun filters are used in daily moisturizers to protect sensitive facial areas. Studies have shown that Mexoryl sunscreens maintain the majority of their sun filtering capability even 24 hours after initial application.
Mexoryl  Safety
  Studies have demonstrated Mexoryl in sunscreens to have little to no absorption through the skin therefore it is very safe. In addition to Anthelios and Ombrelle, Mexoryl can be found in Hydraphase UV SPF 30, a rehydrating moisturizer that offers a full day of protection against UVA and UVB rays.
Because we offer a wide range of Mexoryl based sunscreens it may be confusing deciding which to choose. The chart below should provide assistance. And if you're still confused email – we'll be happy to help.
Anthelios Product 
  Features
 Best For?

Anthelios XL SPF 60 Comfort Cream
High Protection

Fragrance free
Non-comedogenic
Smooth, non-greasy texture for face and body
Mexoryl XL, Mexoryl SX and other sunscreen filters

 Extreme exposure to sun
 Sun sensitive skin such as those with fair skin or rosacea
Protection for healing scars
Individuals at risk of hyperpigmentation (melasma, oral contraceptives)
 Face and body
Active lifestyles

Hydraphase UV SPF 30
Year Round Daily Protection

Contains Mexoryl SX and titanium dioxide for two levels of protection
Contains Sodium Hyaluronate for targeted moisturization of dry areas

 Daily Moisturizer with UVA/UVB protection SPF 30
 Normal to dry skin or skin with dehydrated areas
Well tolerated by almost all skin types (may not be suitable for oily skin)

 Anthelios KA SPF50+

Year round daily protection

Contains Mexoryl SX, Mexoryl XL, Titanium Dioxide and Tinsorb S as the main sun filters

Very high SPF50+ Protection
Fragrance-free
Paraben-free

Daily Moisturizer with UVA/UVB Protection
Suitable for normal to dry skin

 

Anthelios Dermo Pediatrics Wet Skin Gel Lotion

High Protection

Can be applied to both wet and dry skin
Very high SPF50+ protection against UVA/UVB rays thanks Mexoryl XL and Tinosorb S
Invisible gel formula that is instantly absorbed
Creates hydrophobic film on body to repel water
Very water resistant
(80 minutes)
Tested under dermatological and pediatric control
Non-greasy, non-sticky
Doesn't leave white marks
Fragrance-free
Paraben-free

Specifically designed for kids
Can be used by the whole family
Can be applied to wet or dry skin

Anthelios XL SPF 60 Ultra-Light Lotion

Face and Body

Contains Mexoryl XL and SX
Quick absorbing, dry touch finish
Doesn't leave white marks
Hypoallergenic
Fragrance-free
Paraben-free
Non-comedogenic
Now in large 150ml size

Suitable for sensitive skin
Can be used for face and body

Anthelios Ultra SPF 50+ BB Cream

Tinted, High Facial Protection


Contains Mexoryl SX, Mexoryl XL and Tinosorb S
Anti-Stinging Sensitive Eyes Innovation
Water resistant
Tinted with universal micro-pigments for a naturally fresh and luminous complexion
Protects against UVA, UVB and pollution damage
Formulated with antioxidant Baicalensis Root Extract
Perspiration resistant
Leaves no white marks

Suitable for sensitive and sun intolerant skin

 

Anthelios SPF 50 Dermo-Kids Lotion


Children & Sensitive Skin

Non-greasy
Non-sticky
Water resistant (40 minutes)
Tested under dermatological and pediatric control
Fragrance-free
Paraben-free
Contains patented Mexoryl sun filters SX and XL for broad spectrum protection

 Children
Sensitive skin
Active conditions

Anthelios XL SPF 50+Comfort Cream
Very High Facial Protection

Very water-resistant
Paraben-free
Tested under dermatological control
Non-comedogenic
Fragrance-free

New melt-in texture, no white marks
Moisturizing and velvety
Non-oily and non-sticky


Anthelios XL SPF 50+ Gel-Cream
Very Water Resistant

Dry touch texture: double anti-shine action
Immediate absorption
Ultra-dry finish
No white marks
Very water resistant
Paraben free
Perfume free

 ideal for fair and sensitive skin that is oily/combination

 


Anthelios XL SPF 50+ Fluide Extreme (Now Ultra-Light Fluid)
High Facial Protection

Fragrance-free
Paraben-free
Minimum chemical filters
Non-comedogenic
Fluid, non-greasy, light texture
Suitable for normal to combination skin
Very water resistant

Skin subject to sun intolerance (known as sun allergies)
Extreme sun exposure
Prevention of mask of pregnancy
Drug-induced photosensitivity


Anthelios XL SPF 60Targeted Stick Protection
Very High Protection for Sun-Sensitive AreasOrder Now

Water-resistant
Broad spectrum UVA/UVB protection
Tested on sensitive skin
Fragrance free
Non-comedogenic
Hypoallergenic
Tested under dermatological control

  Targeted areas: eye contour, scars, nose, ears, post-surgery areas
Still confused?
If you still can't decide which product is right for you, then call us. Our friendly and experienced staff is very knowledgeable about Anthelios and all the other products that we carry and will be able to recommend products that suit your needs.
Save
Save
Save
Save
Save