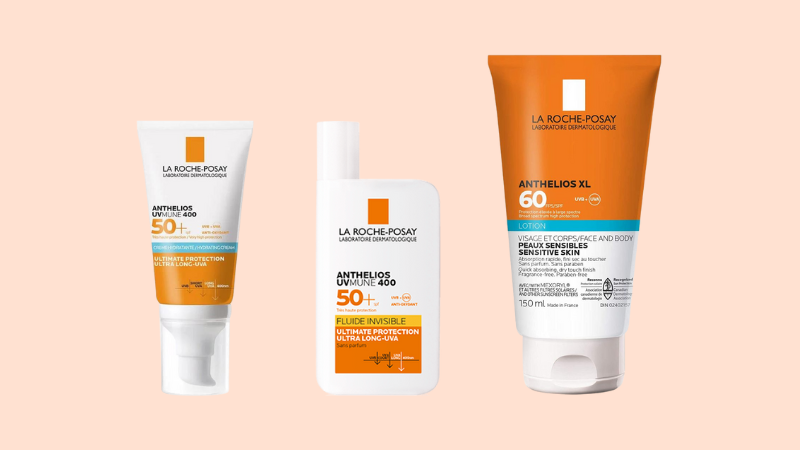 Mexoryl SX and XL are two sun filters found in Anthelios and Ombrelle suncreens. They've been our most popular brands of sun protection products for many years.
Our customers often learn about these ingredients from their dermatologists, and after putting them to the test, they've discovered what we've known for years: that Mexoryl sunscreens provide exceptional protection against sun damage. But what makes them so special?
What is Mexoryl in Sunscreen?
Mexoryl SX and Mexoryl XL are photostable UVA and UVB absorbers, meaning that they don't degrade in sunlight. Photostability is important when it comes to sun filters because if a product is not stable when exposed to sunlight it decreases the efficacy of the product and very frequent reapplication is a must, even when not exposed to water or during heavy exercise. Think of the inconvenience when it comes to a product like your SPF daily moisturizer!
Some studies have shown that Mexoryl sunscreens maintain the majority of their sun filtering capability even 24 hours after initial application. But it's still important to reapply every two hours if sweating, swimming or exercising.
Is Mexoryl a Good Sunscreen?
When it comes to protecting skin against the damaging effects related to sun exposure, you'd be hard pressed to choose a better sunscreen than one with Mexoryl.
Along with delivering photostable, broad spectrum UVA and UVB protection, many safety studies have found Mexoryl sunscreens to be safe. They are well tolerated by most individuals, including those with sensitive skin.
Mexoryl sunscreens absorb UV light and turn the energy into harmless heat, thereby preventing skin damage. They are also not absorbed into the bloodstream, which gives peace of mind about it entering the body.
What is Mexoryl XL sunscreen?
Mexoryl XL, also known as drometrizole trisiloxane was developed and patented by L'Oréal in 1989. A Mexoryl XL sunscreen offers several benefits:
It provides protection against UVA and UVB rays.
Studies have shown that it doesn't negatively impact the environment and is not toxic to coral reefs.
It's well tolerated by most skin types, including sensitive skin. It is also hypoallergenic.
What is the Difference Between Mexoryl SX and Mexoryl XL?
The UVB range of sunlight is is 280 to 320 nanometers, and the UVA range is 320 to 400.
Mexoryl SX protects against UV wavelengths in the 290-400 nanometer range; Mexoryl XL covers a broader range of the UVA/UVB spectrum.
When combined together in a sunscreen, they are an extremely effective pair, delivering photostable UVA and UVB protection. And because they don't degrade when exposed to UV light, you also get long-lasting sun protection.
Sunscreens containing this duo often also have other sun filters including titanium dioxide, avobenzone and Tinosorb S, all which help to ensure the ultimate in UV protection.
Because we offer a wide range of Mexoryl based sunscreens it may be confusing deciding which to choose. The chart below should provide assistance. And if you're still confused email us –we'll be happy to help.
Sunscreen Product

Features

Best for?

Anthelios UVMune 400 Invisible Fluid SPF 50+
Very High Broad-Spectrum Protection

Mexoryl 400, Mexoryl XL, Mexoryl SX & Tinosorb S sun filters
Ultimate protection with Ultra Long UVA protection, SPF 50+
Fluid and ultra-light texture
Ultra water, sweat & sand resistant
Anti-eye stinging: Can be applied around the eyes
No white marks
Non-greasy
Hypoallergenic
For sensitive skin

Extreme exposure to sun
Sensitive, reactive and sun-intolerant skin
Face

Anthelios UVMune 400 Hydrating Cream SPF 50+
Very High Broad-Spectrum Protection

Mexoryl 400, Mexoryl XL, Mexoryl SX & Tinosorb S sun filters
Ultimate protection with Ultra Long UVA protection, SPF 50+
Moisturizing, ultra-comfortable cream formula
Anti-eye stinging: Can be applied around the eyes
Very water, sweat and sand resistant
Non sticky, non greasy
Fragrance-free
For sensitive skin
Hypoallergenic

Extreme exposure to sun
Sensitive, reactive and sun-intolerant skin
 Dry to very dry skin
Face

Anthelios XL SPF 60 Ultra-Light Lotion
High Broad-Spectrum Protection

Contains Mexoryl XL and Mexoryl SX
Lightweight, dry touch finish
No white marks
Hypoallergenic
Fragrance-free
Paraben-free
Non-comedogenic

Sensitive skin with moderate sun exposure
Face and body

Anthelios Dermo-Pediatrics Spray Invisible SPF 50+
Very High Broad-Spectrum Protection


Contains Mexoryl XL & Tinosorb S
Fragrance-free
Paraben-free
Very water resistant
Non-oily, non-sticky finish
Tested under dermatological and pediatric control

Sun-intolerant skin and extreme sunshine intensity
Specifically designed for children's sensitive skin
Can be used by the whole family
easy application

Ombrelle SPF 60 Face Cream
High Broad-Spectrum Protection

Contains Mexoryl XL & Mexoryl SX
Contains antioxidant vitamin E
Light, ultra-comfortable texture
Absorbs quickly & non-greasy
Moisturizing formula helps prevent the appearance of skin aging signs and can be used every day.
Hypoallergenic
Non-Comedogenic
Fragrance and colorant free

Sun sensitive skin
Delicate skin of the face