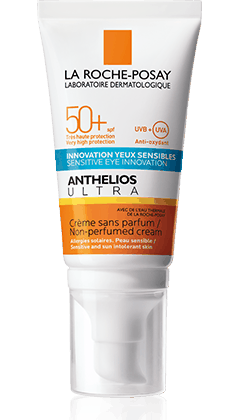 It's been a long wait but your favorite Anthelios XL sunscreens are back in stock! Newly reformulated Anthelios XL SPF 50+ Ultra Cream replaces Anthelios XL SPF 50+ Comfort Crème while Anthelios XL SPF 50+ Ultra Tinted BB Cream replaces the original that's been so popular with staff and customers alike.
With 12 fewer ingredients compared to the previous versions, no preservatives and no parabens, these minimalist formulas make no compromise on protection. Anthelios XL Sunscreens have gone one step further with their Sensitive Eye Innovation that limits eye stinging.
So what hasn't changed? Anthelios XL SPF 50+ Ultra Cream and Tinted BB Cream still contain coveted sun filters Mexoryl XL, Mexoryl SX and Tinosorb S for very high, broad spectrum and photostable UVA/UVB protection and optimal SPF 50+ protection reinforced against UVA rays (stricter than the European recommendation) thanks to XL-Protect filtering system technology. These sun care products are also enriched with La Roche-Posay Thermal Spring Water, with soothing and antioxidant properties especially effective against free radicals.
Both products are made specifically for the face with a non-oily, non-sticky finish that leaves no white marks. Suitable for sensitive or reactive skin, Anthelios XL efficacy has been demonstrated by 29 clinical studies carried out in vivo by world-renowned dermatological experts in photo-dermatology.
While the Anthelios XL SPF 50+ Ultra Cream has a non-shiny finish and invisible feel, the Ultra Tinted BB Cream boasts a rich but non-oily texture that protects, moisturizes and unifies the complexion in a single step. Its universal micro-pigments melt into skin, adapting to every skin tone for a naturally fresh and luminous complexion.
These Anthelios XL Sunscreens couldn't have come at a better time. Bring on the sun!