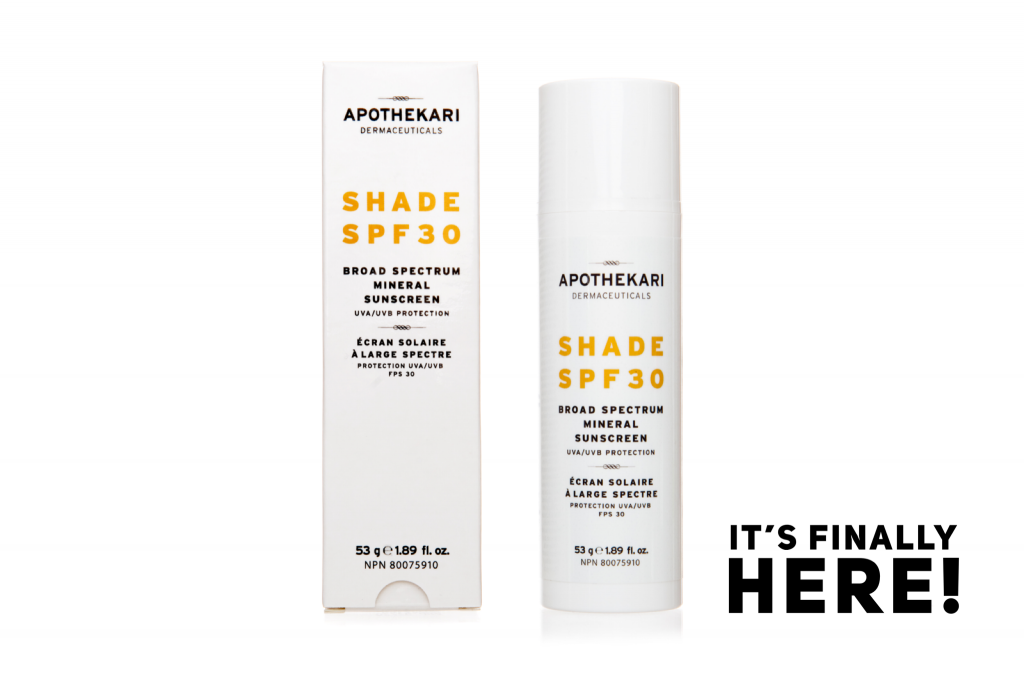 We are thrilled to offer you a new natural sunscreen from our house brand Apothekari Dermaceuticals: Apothekari Shade SPF 30. Our latest addition to the Apothekari family, Shade SPF is formulated with zinc oxide for broad spectrum protection and contains no chemical sun filters whatsoever. It's Health Canada approved and delivers a range of features, making it an ideal choice for all skin types and those of you seeking a natural, physical blocking sunscreen.
We know how difficult it can be to find a natural sunscreen that doesn't feel heavy or leave a visible white finish on the skin and that's one of the reasons we're so delighted with Apothekari Shade SPF 30. Formulated with 13.5% zinc oxide (ZinClear), Apothekari Shade SPF 30 offers healing, soothing and calming properties. The addition of red algae extract (a UV absorbing substance) and ergothioneine (a natural antioxidant and amino acid, which prevents UV damage) offers additional UV protection and helps support against free radical damage.
Apothekari Shade SPF 30 offers:
Broad spectrum UVA/UVB protection
Non-whitening application
Antioxidant support
Suitability for all skin types
Plus it's gluten free!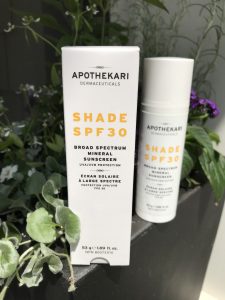 Key Ingredients include:
Zinc Oxide. Broad spectrum protection from UVA and UVB exposure which also promotes healing, while soothing and calming the skin
Thiotaine® (ergothioneine). Natural antioxidant and amino acid, prevents damage caused by UV radiation, recycles Vitamin C, assures efficient energy production, inhibits Tyrosinase (responsible for melanin production)
Porphyra Umbilicalis (Red Algae) Extract. Organism that lives in shallow water where it is exposed to extreme UV radiation, this red algae produces the most powerful UV-absorbing substances in nature, and the extract itself absorbs both UVA and UVB light. For fans of Apothekari's "miracle in a bottle" A is for Anti-Aging Retinal Serum, you're way ahead of the curve! You'll find red algae extract listed as HelioGuard 365.
Shade SPF 30 should be applied to clean skin 15 minutes prior to sun exposure. Use it daily and allow it to absorb before applying make-up. Product should be "patted" on, not rubbed in. As this is a physical sunscreen, the product sits on top of skin and is not absorbed yet feels light with no greasy residue. Shade SPF 30 is not water resistant so we recommend using a sunscreen indicated as water resistant or very water resistant if sweating or swimming and reapplying frequently.
Our favorite way to wear Shade SPF 30 is applying it daily over Apothekari Bespoke Vitamin C Serum to benefit from unparalleled protection against UV rays and free radicals generated by exposure to UV rays, pollution and daily living.
Keep in mind that while daily sunscreen use is one of the best ways to minimize skin damage and can help to reduce the risk of developing some types of skin cancer, Sun Smart habits are important too:
Stay out of the sun during its peak hours, between 10 am and 4 pm.
Seek shade when possible.
Cover up with hats, sunglasses, long-sleeved shirts and pants.
We hope that you love this sunscreen as much as we love bringing it to you!