Whether you're in your 20's or 50's, there comes a point when the signs of aging skin become difficult to ignore. And, in an era where selfies and social media rule, these changes seem to be magnified, if only in our own eyes.
Although everyone ages differently based on intrinsic factors like genetics as well as extrinsic forces, such as lifestyle choices and sun exposure, there are 7 generally accepted signs of aging:
Fine lines and wrinkles
Uneven skin tone
Loss of elasticity/sagging
Age/sun spots
Dull complexion
Uneven skin texture
Enlarged pores
With the passage of time, skin changes occur that contribute to the overall look of the skin. Collagen production decreases, resulting in thinner and more fragile skin. The skin produces less elastin, the protein that gives our skin the ability to rebound and hold its shape.
The fatty layer below the skin begins to shrink, resulting in sagging and a lack of youthful plumpness. Add in gravity and repetitive facial movements that may become permanently embedded into the skin, it becomes obvious the obstacles we are trying to overcome. And don't even get us started on hormones like estrogen, whose decline contributes to dry skin!
Take heart though as the outlook is not entirely bad. We aren't destined to show all 7 signs of aging skin, and with advancements in anti-aging skin care, our access to active ingredients and effective products has never been better. Regardless of your age, there are certain skin care products that will go a long way toward delaying what may be inevitable:
Top 3 Products for Aging Skin
1. Sunscreen
There's a reason why skin care specialists and dermatologists consistently rank sunscreen as the most important thing you can do for the health of your skin. Sun filters protect against photoaging, all those signs of skin aging that can be attributed to and exacerbated by sun exposure. The best part of sunscreen? It's never too late to start.
More choice is available today so it's easier than ever to find a sunscreen that will suit your needs. We didn't think we could love anything more than perennial favorites from Anthelios but new zinc-oxide based Apothekari Shade SPF 30 is certainly providing some stiff competition with its non-whitening and matte finish and antioxidant-rich formula.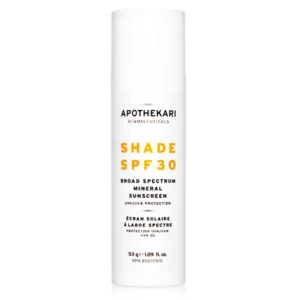 2. Anti-oxidants
Keeping signs of aging at bay is all about prevention and antioxidants do just that.  Just as it's never too late to start using sunscreen to reap its benefits, it's never too early to start using antioxidants to prevent skin damage associated with free radicals and UV rays. Applying an antioxidant in the morning helps to minimize skin damage from free radicals, those highly-charged and unstable molecules that can activate enzymes that break down collagen.
Using an antioxidant at night continues to fight damage from environmental stressors while increasing collagen production, strengthening the skin's barrier system and reducing inflammation, another factor that can age the skin. While it's difficult to choose a favorite antioxidant, we're partial to vitamin C due to the reams of clinical studies backing its use in skin care to fight free radicals and brighten skin tone. Bonus: antioxidants and sunscreen actually enhance each other's skin protecting abilities!
3. Retinoids
It's hard to beat what retinoids bring to the anti-aging fight. As cell communicators, retinoids have been show to reverse fine lines and wrinkles, unclog pores so that they are less visible, lighten dark spots, eliminate blemishes and increase the production of collagen while bringing newer and healthier skin cells to the surface. Is there anything that retinoids cannot do?
If you've been hesitant to a retinoid to your skin routine because of purported redness and peeling, fear not! Apothekari A is for Anti-Aging retinal serum contains gentle yet effective retinaldehyde, the least irritating form of vitamin A to the skin. We like to think of it as our miracle in a bottle.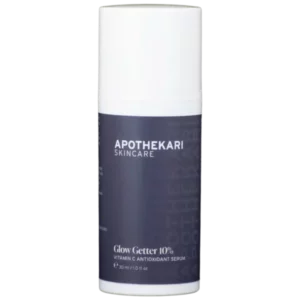 When it comes to signs of aging skin, we've all got to fight the good fight.