When we introduced new Avène sunscreens two summers ago, we were hoping that you'd love them. We weren't disappointed! Whether it's because of the Tinosorb sun filters, the imperceptible feel or a combination of the two, Avène has been embraced!
What Makes Avène so Special?
Apart from the feel, texture and sheer wearability, Avène sunscreens are formulated with an exclusive Sunsitive® protection combination:
Patented filter system containing only 4 sun filters (Tinosorb S, Tinosorb M, Avobenzone and Iscotrizinol) for very broad-spectrum, long-lasting stable and effective UVB-UVA protection with optimal skin tolerance.
Unique antioxidant complex (Pre-tocopheryl + Pro-taurine) for complete cellular protection against oxidative stress.
Avène Thermal Spring Water, recognized for its soothing, anti-irritating and softening properties. Infused with calcium, magnesium, and silicates, Avène thermal spring water nourishes and heals skin, but what makes it truly unique is the microflora Aqua Dolomiae. Found nowhere else in the world, this microorganism provides the water with its anti-itch, anti-inflammatory properties, helping to stimulate skin's natural protection.
New Avène Sunscreens to Love
For those who count themselves among the converted, we've got two new Avène sunscreens for you to fall in love with. Made in France, these high protection, broad spectrum sun products contain unique formulas with both Tinosorb S and Tinosorb M, sun filters that will appeal to those seeking the latest in UVA and UVB protection:
Avène Very High Protection Fluid SPF 50+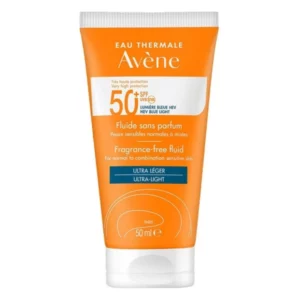 Very high, photostable sun protection for normal to combination sensitive skin on the face with extremely broad-spectrum UVB-UVA protection. Features a dry-touch finish and biodegradable formula. Its light texture offers a dry, non-shiny finish to the skin.
Avène Very High Protection Cream SPF50+
Very high, photostable sun protection for dry sensitive skin on the face with extremely broad-spectrum UVB-UVA protection. Rich and moisturising texture to nourish the skin, its velvety smooth texture offers skin an instant sensation of comfort.
Along with the Nude Skin Feel Innovation, these new Avène Sunscreens feature:
Imperceptible feel on the skin
Non-greasy, non-sticky finish
Rapid absorption
Practical airless pump tube to dispense just the right amount of product
It's All About the Tinosorb
Because our customers are always looking for the ultimate in sun protection, it's really all about the sun filters. Tinosorb S and Tinosorb M are photostable, protect against both UVA and UVB rays, aren't associated with skin irritation and work extremely well together while stabilizing other ingredients. There's so much going for them!
You'll find out more about Tinosorb here and here, as well as finding it in some Anthelios Mexoryl formulations, including XL SPF 50+ Melt in Cream, Dermo Pediatrics SPF 50+ Invisible Spray and perennial favorite Anthelios SPF 50+ Invisible Fluid.