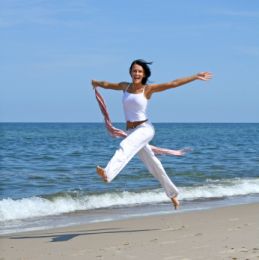 While some of us are trying desperately to finish the last hundred or so things on our to-do list before Christmas, the lucky ones are planning a little winter getaway to somewhere warm and sunny.   It's true that you might still have to find a dog-sitter, do the laundry before packing your bags and deal with the long lineups at the airport, but what a small price to pay for a relaxing holiday!
If an escape from the cold and dark days of December is in your immediate future, consider these four winter getaway essentials and tips that will help protect your skin while you enjoy the break:
1. A couple of days before leaving on holiday, get your skin primed for the tropics by using a self-tanner. We're not advocates of sunbathing because of the damage it can cause, but a self-tanner like Fake Bake Flawless Self-Tan will safely give you that sun-kissed look without the UV damage.   When the bathing suit goes on, you'll be sporting an irresistible golden glow and be less tempted to lay in the sun.
2. For the airplane ride, carry some good moisturizers.  We all know how the low humidity on airplanes can make our skin feel dry and devoid of moisture.   By applying a rich, non-greasy moisturizer, like La Roche Posay's Hydreane Riche as needed during the flight, you can hydrate your skin and provide a barrier against further moisture loss.  For the hands, I like the protective properties of La Roche Posay's Lipikar Xerand hand cream.  Both products are also under the airlines' 100ml maximum size for carry-on liquids.
3. Don't forget the lips! Anthelios XL Lip Stick SPF 50+ does double duty as it provides soothing, moisturizing care along with high protection against the sun. 
4. Bring a generous supply of a good, broad-spectrum sunscreen.  I have been known to pack two large bottles of sunscreen per member of my family for a week's sunny getaway.  Excessive?  Perhaps, but with all the swimming and outdoor activities, we constantly reapply, and I like knowing that I won't run out of my trusted sun protection.  The larger sizes go in the suitcase while the 100 ml sizes go in our carry-ons, just in case. Nobody complains about using Anthelios XL SPF 45 Spray – its convenient application and light formulation delivers easy and effective protection. Everyone's happy!
With a little planning and some smart packing, you'll come back rested, relaxed and looking great.  Not a bad way to end the year at all.  Don't forget to send us a postcard.