Anthelios UVMune 400 may be a mouthful to say, but as the new and improved version of the much-loved Anthelios Hydrating Cream SPF 50+, this could be the new sunscreen your skin needs!
How Does Anthelios UVMune 400 Work?
Although it's got a new name and additional sun filters, Anthelios UVMune 400 Hydrating Cream SPF 50+ has kept all the benefits and features that our customers have come to love:
Moisturizing, ultra-comfortable cream formula
Anti-eye stinging: Can be applied around the eyes
Ultra-resistant formulation: Very water, sweat and sand resistant
Non-sticky, non-greasy
Fragrance-free
For sensitive skin
 Hypoallergenic
Even with all these great things going for it, aficionados know that any sunscreen is worth its weight in gold because of the sun filters. Not only does this new formulation contain much-coveted Mexoryl XL, Mexoryl SX and Tinosorb S, L'Oreal (La Roche Posay's parent company) has spent the last 10 years developing Mexoryl 400, a new sun filter that targets specifically the 340-400nm range of UVA rays.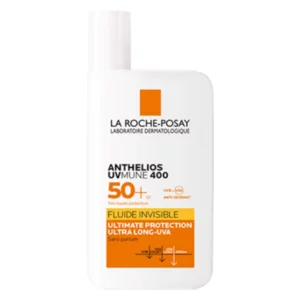 Why are UVA Rays Harmful?
The sun emits ultraviolet (UV) rays, and consists of three main types UVA, UVB and UVC, covering the wavelength range of 100 – 400 namometers. UVC rays (100-280 nm) break apart when they reach the earth's protective ozone layer and are generally not a concern. UVB rays (280-320 nm) have a short wavelength, reach the outer layer of skin and are responsible for sunburns. UVA rays (320-400 nm) have a longer, more penetrating wavelength and can lead to premature aging of the skin.
UVB rays are the ones that we tend to think about in the warmer, sunnier months when we pull out the sunscreen before heading to the beach. UVA rays are less intense but longer and maintain their strength from dawn to dusk, through all kinds of weather, 365 days a year.
Why are we so focused on UVA rays? Because these are the ones that penetrate deeply into the skin and are responsible for genetic damage to cells, premature aging of the skin and, over time, some forms of cancer. And unlike UVB damage that is evident soon after exposure, UVA damage may not reveal itself for years.
UVA rays can be further broken down into UVA1 rays (340-400nm) and UVA2 rays (320-340nm). It is the UVA1 range where ultra-long rays occur and actually make up 30% of the TOTAL UV radiation reaching the earth, a significant fact that L'Oreal decided to tackle.
What is Mexoryl 400?
L'Oreal looked at developing a new sun filter that would target the hard-to-protect 380-400nm range of UVA rays and that could complete their filtering system. After a decade of research and hundreds of different trials, Mexoryl 400 was born.
Under its chemical name of Methoxypropylamino Cyclohexenylidene Ethoxyethylcyanoacetate (MCE), Mexory 400 leads the way in delivering protection against ultra-long UVA1 rays. When combined with the coverage afforded by Tinosorb S and Uvinul A Plus, Anthelios UVMune 400 Hydrating Cream SPF 50+ could arguably be called the absolute cutting edge and most complete of sunscreen protection.
We know that Anthelios fans will be just as excited as we are with this innovation that provides ultimate UVB and UVA protection, now extended all the way to 400 nanometers.
PhaMix is expecting stock of Anthelios UVMune 400 Hydrating Cream very shortly. Please contact us at info@phamix.com to get notification of it arrival.