Sunscreen in the fall may not come as naturally to the mind as in the summer, but do we still need it? Of course!
Wearing sunscreen in the fall protects our skin against the UVA rays that contribute to premature aging and genetic damage of skin cells. Unlike the UVB rays that are more prevalent during the spring and summer months, UVA rays occur year-round and can reach us through clouds as easily as clear, blue skies.
Continuing to use your favorite daily sunscreen is an option, but as the weather turns cooler, you may want to consider one that ups the hydration factor. Luckily, we have a few to choose from.
Ombrelle SPF 60 Face Cream
Ombrelle has had a long history of providing photostable, broad-spectrum protection against UVA and UVB rays. With a combination of antioxidant vitamin E and effective sun filters like Mexoryl XL and Mexoryl SX, titanium dioxide and avobenzone, Ombrelle SPF 60 Face Cream provides moisturizing properties while helping to protect against sun damage. We also love that it comes in a larger 2.5 oz tube. View the full range of Ombrelle sunscreens here.
Avene SPF 50+ Cream
If you're looking to try a new sunscreen in the fall, this one is a serious contender. Avene SPF 50+ Cream provides very high, photostable sun protection for dry sensitive skin on the face with extremely broad-spectrum UVB-UVA protection. Its rich and moisturizing texture nourishes the skin while its velvety smooth texture offers skin an instant sensation of comfort. As if that weren't enough, its formula contains both Tinosorb S and Tinosorb M, two of the latest, cutting edge sun filters available.
Anthelios UVMune 400 Invisible Fluid SPF 50+
No sunscreen list would be complete without mentioning perennial favorite Anthelios! The name almost says it all: Anthelios UVMune 400 Invisible Fluid SPF 50+. Suitable for sensitive skin, this sunscreen offers:
a moisturizing formula for dry to very dry skin
very high, photostable protection combining Mexoryl XL, Mexoryl SX and Tinosorb S
an ultra comfortable, non-greasy texture and invisible finish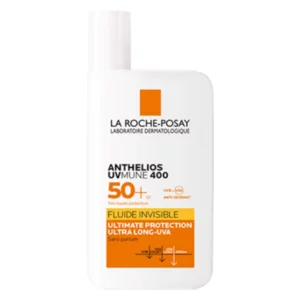 What makes Anthelios extra-special is its use of La Roche Posay Thermal Spring Water, providing soothing and antioxidant properties.
As much as the world continues to change, one thing remains the same: sunscreen is still the best thing you can use to prevent premature aging of the skin. Sunscreen in the fall (and winter, spring and summer) means healthy skin. And healthy skin is happy skin!