Summer skin can really take a beating after months of sunshine, heat and humidity. Thankfully, bringing your skin back to prime condition takes no more than 3 easy steps. We promise! It all goes back to our mantra: Protect, Repair, Reverse.
3 Easy Summer Skin Care Steps
1. Protect
As tempting as it is to feel the warm sunshine on bare skin, it can be very damaging. Summer skin care should always start with a good, broad spectrum sunscreen. We like using one dedicated for the face, like Anthelios UVMune 400 Invisible Fluid SPF 50+. Its lightweight and invisible formula, plus high protection against UVA and UVB rays, make this the perfect choice during the warmer months. For the body, our customers are loyal to the Anthelios XL SPF 50 Melt in Cream with Mexoryl and Tinosorb S, and we couldn't agree more.
When it comes to protecting summer skin, sunscreen is only half the equation. Adding in an antioxidant, like Apothekari Bespoke Vitamin C serum, is an easy way to boost the power of your sunscreen and fight the free radical damage caused by UV exposure.
2. Repair
We'll be the first to admit that, during the more relaxed summer months, we've been known to occasionally fall off the skin care wagon. Step 2 of summer skin care requires practically no effort all: we do it while we sleep. Repair comes in the form of Apothekari A is for Anti-Aging, an effective yet gentle retinoid that helps to reverse sun damage.
Not only do retinoids boost collagen production (for plumper looking skin), but this essential treatment can also reduce the appearance of fine lines and wrinkles, brighten the skin and increase skin moisture content. Apply to clean skin at night, hop into bed and let time do the rest. What could be easier than that?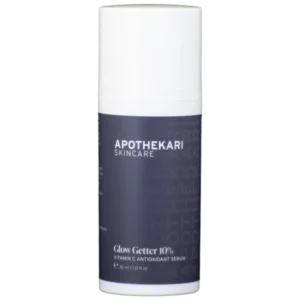 3. Reverse
While reversing summer sun damage to the face gets off to a great start with Step 2 above, getting the skin below the neck back to tip-top condition takes a tiny bit more effort. Just a tiny bit. The results are worth it! This where the one-two punch of exfoliating and moisturizing comes in.
We've always maintained that exfoliating is one of the missing links to great skin, and we stand by it! Not only does exfoliating remove the dull, dead skin cells that can make our face and body look dry and dull, it also removes the barrier for all those active and hydrating ingredients in our skin care treatments.
Whether you choose to exfoliate by dry brushing or pampering yourself with a sugar body polish, follow it up with a cream or lotion to replenish the moisture depleted by air conditioning, chlorine and heat. For extra rough areas like elbows, hands, knees and heels, we love a moisturizer containing urea. A natural moisturizer found within the skin itself, urea's power is two-fold; as a humectant, urea attracts moisture to the skin while its natural exfoliating properties help remove dry, dead skin cells. We think urea is seriously underrated.
The last tip to summer skin care is the easiest of all: book that pedicure! Sometimes, things are best left to the professionals.