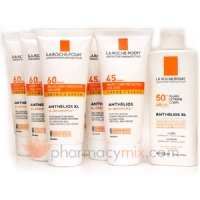 Anthelios sunscreens have been a top seller at PhaMix from the day we opened. Recommended by dermatologists and sought out by discerning customers, there's a reason why this sunscreen brand continues to gather fans year after year.
Formulated with effective sun filters Mexoryl SX and Mexoryl XL , Anthelios sunscreens also boast other efficacious ingredients including titanium dioxide and stabilized avobenzone. The line has evolved to include other safe and effective UV absorbing and blocking agents such as Tinosorb S.
Not only are the sunscreens formulated with ingredients that work, they are also photo-stable, meaning that they retain their efficacy upon exposure to sunlight. Many UV filters degrade upon exposure to light, rendering them ineffective, but that isn't the case with this line. Anthelios sunscreens don't contain ingredients that are absorbed into the bloodstream (or if they are, it is in minute quantities), leaving them free of a side effect associated with many other sun filtering agents – hormone disruption. Skin irritation, also commonly experienced with other sunscreen brands, is relatively uncommon.
We stock a range of Anthelios sunscreens to suit different skin types and varied situations. Here's how to choose one that's right for you:
 Choosing the right sunscreen can be difficult, so please don't hesitate to contact us if you require assistance.