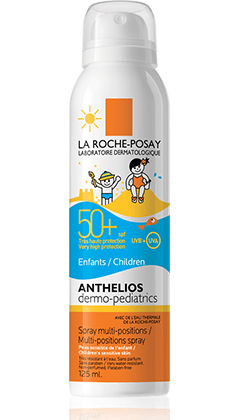 Looking for Anthelios sunscreens for kids? Based on its popularity with our customers, La Roche Posay's Anthelios line has become your go-to for effective, safe and stable sunscreens. It's no surprise, then, that you would turn to Anthelios to protect your children's delicate skin. Although many products can be used by everyone, Anthelios carries some that are formulated specially to suit the younger members of your family.
Did you know that kids' skin is more vulnerable to sun damage than adult skin? Although most research data is collected from adult subjects, mounting evidence suggests that UV-induced changes in the skin may occur as early as a child's first summer. As sunscreen is not recommended for children under 6 months old, it's especially important to seek shade and cover babies up with sun-protective clothing.
Babies' skin contains less melanin, the naturally occurring pigment that gives our eyes and hair their color. Melanin also acts, to some degree, as natural sun protection. This is evident when our skin tans (aka becomes damaged) when exposed to sun. When adults experience sun burn, this can be a painful and unpleasant event. When babies burn from sun exposure, they are more likely to become seriously ill with dehydration, heat stroke, fever and blisters.
It is true that some kids don't seem to stay still long enough for us to properly apply sunscreen! But with persistence, they will realize that this is part of their normal every day routine. This especially hits home if Mom and Dad set the example. The key is to develop a good sun safety routine right from the beginning. They learn not just from example but also from knowing the how and why of regular sunscreen use. Prevention of sun damage should begin at a young age.
What makes a great sunscreen for kids?
Wearability with a pleasant, non-sticky finish
Paraben-free, fragrance-free
Easy application
Water resistant (40 minutes) or very water resistant (80 minutes)
Effective and stable sun filters that block out UVB rays (for burns) and, in the interest of long-term sun damage, UVA rays as well.
Tested under dermatological control for children's sensitive skin
Anthelios sunscreens for kids checks all the boxes with formulations that include the newest sun filters (such as Tinosorb S, Mexoryl SX and Mexoryl XL) while making it a point to exclude older-generation ingredients that have been found to cause hormonal disruption and skin irritations.
Perennial favorite Anthelios SPF 50 Dermo-Kids Lotion is specially indicated for sensitive skin and contains a combination of physical and chemical sun filters, including an impressive 4.5% of highly coveted Mexoryl XL.
Our newest addition to the PhaMix family is Anthelios Dermo-Pediatrics SPF 50+ Spray in a continuous spray, multi-positional format. With Tinosorb S for an extra layer of protection and soothing Thermal Spring Water, rich in antioxidant selenium, this is one formulation that's hard to beat.