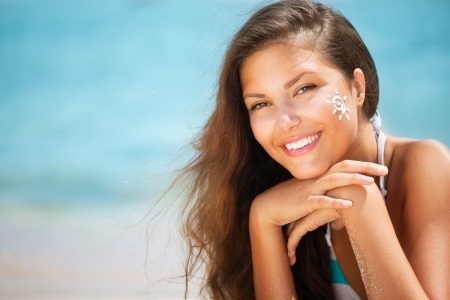 Is it too early to start thinking about sunscreen? Clearly, our customers don't as we get questions about this indispensable #1 anti-aging product all through the year.
If you're wondering about some of our sun protection products, read on. Alternatively, give us a call and we'll be happy to chat about all things sunscreen.
1. Just wondering if you thought the La Roche Posay Anthelois XL Comfort Cream/Melt in Cream SPF 60 sunscreen would be okay for sensitive skin?
Anthelios XL SPF 60 Comfort Cream/Melt-in Cream is fragrance-free, has been tested on sensitive skin and is marked as hypoallergenic by the manufacturer. However, as those with sensitive skin may have a more difficult time tolerating chemical sun filters, you may want to consider something like Anthelios SPF 50+ Dermo Kids Lotion (which is made specifically for children's sensitive skin and has a formula with higher amounts of titanium dioxide and lower amounts of chemical sun filters). You may also want to consider Cliniderm SPF 45 Gentle Protective Lotion which uses only titanium dioxide and zinc oxide as its active ingredients.
As with any new product, and especially if you have sensitive skin, always perform a skin patch test to minimize any possible irritation.
2. I was going to order your sun screen but I had ordered a sunscreen from another website which has Titanium Dioxide & Zinc Oxide and I cannot use this as it is pure white and does not spread on the skin. It looks like something that would be used in a Funeral Home. Why is it like this and is your product easy to spread and is it also very white?
We recognize that finding a sunscreen that you love wearing every day can be a challenge. Physical sun filters titanium dioxide and zinc oxide can often be heavy and leave a white finish on the skin. depending on your complexion. Zinc oxide covers the full range of the UV spectrum, both the longer UVA (aging) and shorter UVB (burning) rays. Studies have shown zinc oxide to be safe, effective and stable upon sun exposure. While titanium dioxide does a good job in blocking the UVB rays, it doesn't block all UVA rays and should be used in combination with other sun filters to cover a wider range of the UVA spectrum.
If you are open to using the much sought-after filters Mexoryl XL or Tinosorb S, you may want to consider Anthelios XL SPF 50+ Comfort Creme, Anthelios XL SPF 50+ Ultralight Fluide aka Fluide Extreme or Anthelios XL SPF 60 Lightweight Lotion. All three provide great sun protection with an invisible finish.
If you want to stick with physical sun filters, you'll be happy to hear that we're working on a formulation called Apothekari Shade SPF 30, an all-natural sunscreen with zinc oxide. Not only does it block 100% of both UVA and UVB rays but does it beautifully without leaving a white finish. Add in UV-absorbing red algae extract and antioxidant ergothioneine and we think it's a winner. Watch for it soon!
3. My dermatologist has recommended using a sunscreen called Tinosorb-Bemotrizinol and recommended your website as a place to purchase it. I cannot find it on your site- any suggestions?
We are so pleased that your dermatologist suggested contacting us. Tinosorb-S (also known as Bemotrizinol) is actually one of the newest sun filters available. We love it because it is photostable, helps to stabilize other sun filters, is compatible with filters Mexoryl XL and SX and is not associated with any known skin irritations. Read more about it here in our blog.
You'll find it in a few of the sunscreens that we carry: Anthelios XL SPF 50 Comfort Creme for the face, Anthelios XL SPF 50 Lait Veloute in the large 300ml/ 10 oz tube, Anthelios XL SPF 50 BB Cream and both the tinted and untinted versions of Anthelios XL SPF 50 Ultrafluid (aka Fluide Extreme).
If you have questions about finish, feel and suitability, please don't hesitate to give us a call as we make it a point to try as many of the sun protection products as we can for first-hand information.
4. Is it okay to purchase discounted UNOPENED sunscreen, with tanning agent, from a shop that expires in a month? I won't need to use it for two months (so it will be a month past expiry when I start using it) when I'm back in Australia. I can't imagine it lasting much longer than a month or two because I'm fair skinned and pretty diligent with my sunscreen use.
Expiration dates for sunscreen and skincare are based on tests that the manufacturer has conducted to demonstrate how long the product retains its efficacy and safety. If a manufacturer runs a test for only 2 years, then they can only label that product's efficacy is for 2 years. However, this doesn't necessarily mean that it will automatically 'go bad' or lose its efficacy the day after its expiration date. It just means that this is the duration it's been tested to demonstrate that it is still safe and effective. A product could very well retain its efficacy for several years more, but there is no way to know without additional testing.
Sunscreens generally have a shelf life of 12 months after opening. If the product has gone past the best before date, it is most likely still safe to use. However, heavily discounted products with a short expiry date are usually final sale with no chance of refund even if the consistency, smell or color are off. This may just be a case of "Buyer Beware".
5. I was interested in the site's comment that Anthelios XL + Fluide Extreme (which we had used for years) has now been reformulated with Tinosorb and is now called Ultra Fluid. Surprisingly, the La Roche site is apparently not updated: it still says it is called ANTHELIOS XL SPF 50+FLUID ULTRA-LIGHT, and does not list Tinosorb as an ingredient. Are these the same? Also, we had switched to an EltaMD product, which had been recommended for my rosacea condition. I'd like to try the Anthelios Ultra Fluid but wondered if in the new formulation it is safe for rosacea?
You are right that the Anthelios XL SPF 50+ Fluide Extreme has been renamed Anthelios XL SPF 50+ Fluide Ultra-light Fluide with a new formulation. The link you provided has Tinosorb S listed with its chemical name, BIS-ETHYLHEXYLOXYPHENOL METHOXYPHENYL TRIAZINE. This matches with the stock that we currently have.
As for its suitability for those who have rosacea, it would be difficult to determine without a skin patch test. Because rosacea manifests itself differently for each person, it would impossible to tell if the Anthelios XL SPF 50 Ultra-light Fluide would act as a trigger. Those who deal with rosacea tend to do better with sunscreens that use only physical sun filters such as zinc oxide and/or titanium oxide.
6. I have used the Anthelios products for many years. However, now I find some products have been discontinued. What could I use in place of the Anthelios XL SPF 45 Spray? My dermatologist recommended these products because of the Mexoryl XL. Also, is the Ombrelle Facestick as good a product as the Anthelios Facestick?
With the Anthelios XL SPF 45 Spray Lotion being discontinued by the manufacturer, we currently have two other spray sunscreen options that contain Mexoryl XL: Anthelios Dermo-Pediatric SPF 50+ Spray in aerosol and in pump dispenser. We also have quite a selection of sunscreens in cream or lotion format that also contain Mexoryl XL.
As for the Ombrelle SPF50 Facestick and the Anthelios SPF60 Targeted Stick, both contain the exact same sun filters in the same percentages for effective sun protection.