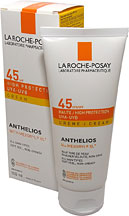 New Anthelios SPF 45 Cream replaces Anthelios Lait SPF 45. This new version of Anthelios SPF 45 is an improvement over the old Anthelios Lait – in addition to Mexoryl SX, Anthelios SPF 45 Cream contains Mexoryl XL to deliver even better UVA protection than before. Read on to find out how to save 20%…
This high protection UVA-UVB face and body sunscreen is formulated with La Roche Posay's patented sun filtering system that includes Mexoryl XL and Mexoryl SX. Suitable for all skin types, Anthelios SPF 45 cream has a soft feel and is non-greasy.
It is:
Fragrance free
Non-comedogenic
Hypo-allergenic
Tested under dermatological controlSuitable for all skin types; non-greasy texture.
Until May 21, 2008, SAVE 20% now until May 21, 2008. Promo code anthelios45 at checkout. Plus free shipping on all orders over $125! Exclusive offer for blog readers and newsletter subscribers.