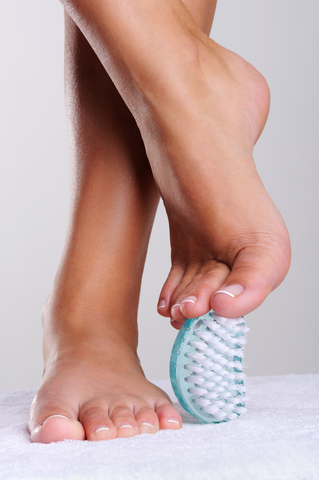 Warm weather is at its peak, and with your toes out in full view for the world to see, there's no better time to spend a few minutes achieving perfect summer feet.  We've put together a few simple pedicure do's and don'ts to get you up and running.  Ahem, are you listening, men?  If not for your own sake, for ours, please.
Do:
Start by soaking the feet in warm water for 15 minutes to soften the skin. Add a few drops of lavender or tea tree oil for a spa feel.
Use a pumice stone to gently slough off the dead skin cells, paying particular attention to the heels, the balls of the feet and any other areas where callouses may have built up.
Cut the nail straight across to avoid getting painful ingrown toenails.
Use a foot cream with urea every night to help slough way hard, dry skin. Eucerin Foot Smoothing Cream contains 10% urea to exfoliate as well as hydate. The tops and bottoms of our feet have almost no oil-producing glands, so feet tend to get dry.
Apply sunscreen!  The lowly but hard-working feet are often overlooked when it comes to sun protection, so start from the bottom and work your way up to ensure total coverage.  With sandals, the tops of the feet are exposed to UV rays almost as much as the hands.
Take care of sweaty feet. Wearing sandals can actually help by allowing the feet to stay cooler and for sweat to evaporate more quickly with increased air circulation, but when desperate times call for desperate measures, Dehydral Antiperspirant Cream for the foot may be just the answer you're looking for.
Don't:
Wear flip flops every day.  It may be tempting with the warm weather, but flip flops simply don't give your feet enough support.  Instead, choose sandals with ankle straps that help the shoes hang on to the foot without having to constantly overwork the toes to grip the shoe.  Flip flops may be the symbol of summer freedom, but save them for days at the pool or beach.
Use a foot razor or scissors to cut away any hard skin, which could leave you open to bacteria and infections.  Regular and gentle buffing with a pumice stone is the way to go.
Push back the cuticles with an orange stick. The area around the cuticles can be extremely sensitive and inadvertently breaking the skin allows bacteria to pass through.
If the thought of trying to get (and keep) your feet sandal-ready makes you weary, this is the perfect excuse to book that pedicure.  Like plumbing and electrical work, leave it to the professionals.