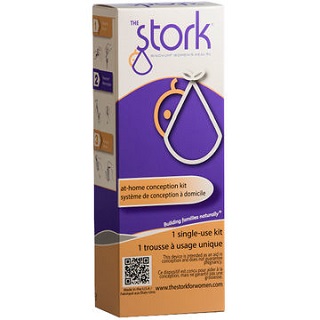 PhaMix may be best known as your source for Anthelios sunscreens with Mexoryl and effective, science-based skin care lines like Apothekari, Neostrata and La Roche Posay, but we also have an extensive "medicine cabinet" which includes the Stork Conception Kit, an innovative, home-use device that helps with becoming pregnant.
Whether you are just starting on your journey to parenthood or have been trying for longer, let The Stork optimize your chances of conceiving. This NEW treatment option is FDA-cleared for home-use without a prescription.
The Stork lets you take charge of your family planning, and act as a team while you do it. FDA-cleared applications for The Stork include common fertility difficulties attributed to both men and women, including:
Low Sperm Count
Motility Issues
Unfavorable Vaginal Environment (pH imbalance)
Unexplained Infertility
The Stork Conception Aid gives couples a way to use cervical cap insemination — an established conception technique — in the privacy of home. The Stork incorporates familiar elements with the condom-like sheath for collection and tampon-like delivery and removal of the cap, so you can use it at home, in private before having to try more aggressive treatments (or after having already tried them) – and without the same loss of intimacy.