Sun damage, caused by unprotected exposure to the sun's ultraviolet (UV) rays, is one of the main factors involved in aging skin with research showing that it is responsible for more than 80% of the damage. In this post, learn how a combination of the right products (found in our Anti-Aging Set, and which currently features a $40 gift certificate to apply to a future purchase), plus safe sun habits can help you to beat sun damage and minimize its effects, when it occurs.
BUY ANTI-AGING SKINCARE SET
Buy Apothekari at our online store PhaMix.com
The Sun is Your Skin's Worst Enemy
One can't deny how good sunshine feels on our skin. Yet, UV rays are the primary cause of premature skin aging and skin cancer. Protecting your skin against sun damage is the most important thing you can do to help keep your skin looking healthy and beautiful, yet most people don't take this seriously.
The sun produces two main types of UV rays that cause sun damage: UVA and UVB. UVA rays are longer penetrating rays, which reach deep into the skin. They can trigger skin cancer and also break down the skin's supporting network, including the destruction of elastin and collagen, which ultimately leads to fine lines, wrinkles and saggy skin. UVA rays also disrupt melanin, leading to skin discolourations, AKA age spots. UVB rays are shorter rays and they are primarily associated with sunburns. However, they are also responsible for premature aging and skin cancer.
Long term exposure to UV rays impacts the skin's ability to produce components such as antioxidants, essential fatty acids, ceramides, hyaluronic acid, etc., that are essential to its wellbeing. In addition to skin cancer, other undesirable changes may occur:
Increased fine lines and wrinkles
Uneven skin tone and discoloration
Dry, thin and crepey looking skin
A build-up of dead, dry skin cells, leaving skin looking dull and lifeless
Sunscreens & Antioxidants Protect Against Sun Damage
To fight against UV damage, protect your skin with a broad spectrum UVA/UVB sunscreen. Choose a product with a minimum of SPF 30 and use it every day, year round. Apothekari Shade SPF 30 is a zinc oxide, mineral-based sunscreen that is non-whitening and contains additional antioxidant protection. It's never too late to start using sunscreen and the sooner, the better. Remember to reapply sunscreen if you are going to be outside for a long time or sweating. Don't forget your lips, ears and the tops of your feet.
Antioxidants complement the benefits of sunscreen by helping to defend against the free radical damage that accompanies UV rays. We recommend that you layer on an antioxidant treatment every morning under your sunscreen to take advantage of the one-two punch that you'll get from this combination. Our Bespoke Vitamin C Serum contains l-ascorbic acid plus an arsenal of antioxidants including vitamin e, green tea extract, ferulic acid and pomegranate seed oil to help protect skin. Each bottle is made to order to guarantee freshness.
Correct the Effects of Sun Damage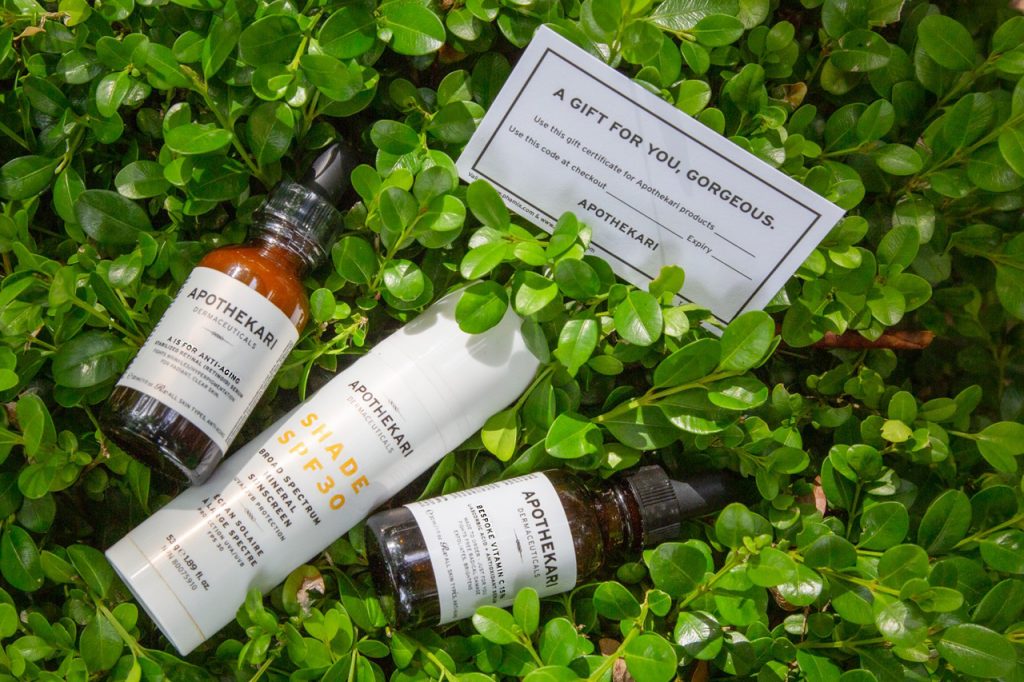 While sunscreen and sun protection are the best way to protect and prevent sun damage, products are available that can help to diminish its impact when it occurs:
Retinoids, like retinaldehyde, found in our A is for Anti-Aging Serum, visibly diminish the appearance of wrinkles and other signs of aging by boosting collagen production and increasing skin cell turnover
Vitamin C. In addition to its antioxidant benefits, vitamin C can brighten skin and help to make it appear more evenly toned. Find it in our Bespoke Vitamin C Serum
Treatments such as alpha hydroxy acids (AHAs) or beta hydroxy acid (BHA) help to remove the buildup of dry, dead skin that cause dullness, resulting in more radiant skin.
Our Anti-Aging Essentials Set contains A is for Anti-Aging (retinoid serum), Bespoke Vitamin C Serum (Vitamin C + antioxidants) and Shade SPF 30 (suncreen). This combination of 3 products is one of the most effective ways to help defeat sun damage.
Lifestyle Tips
While topical products can help to protect and perfect skin, these tips will go a long way to helping protect skin against sun damage:
Cover up with a hat, sunglasses and long sleeves.
Seek shade where possible
Stay out of the sun during peak hours between 10 am and 4 pm
Who's ready for summer?