Glowy, radiant skin is a sign of healthy skin – a look that that we all aspire to. Consistently using the right combination of products is key to radiant skin. Learn more in this post.
Get your glow on with these two Apothekari serums. Currently features special pricing at our online store PhaMix.com
What Robs You of Radiant Skin?
Lack of sleep, stress, aging and even what you eat can rob your complexion of its radiance. Skin that looks dull and tired can become luminous and glowing by using the right products along with some expert tips. Here's how to achieve radiant skin.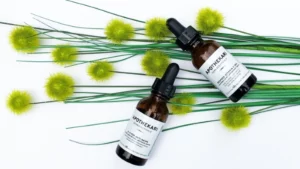 4 Tips for Radiant Skin
Cleanse. Start with a clean 'canvas' by removing dirt including oil, pollution and make-up that can leave skin looking dull. Choose between two foaming cleansers to suit most skin types:

AHA-Mazing Clean Cleansing Gel – Exfoliate, cleanse and hydrate with this foaming cleansing that soothes skin and senses. Triple combination of alpha hydroxy acids (AHAs) and a refreshing mint scent.
Cloud Nine Foaming Cleansing Crème – Clean, moisturize and protect skin with this gentle, foaming cleanser. Rich with antioxidant and anti-inflammatory ingredients and ideal for aging and sensitive skin.

Exfoliate. Nothing strips away your glow more than having a layer of dry, dead skin cells sitting on your skin's surface. Exfoliation helps to remove these cells and brightens skin almost immediately. You can exfoliate physically with a scrub or chemically with an acid. When it comes to facial exfoliation, we lean towards chemical exfoliation, which only penetrates through the skin's uppermost layer. Scrubs and polishes are more prone to aggressive use, which can lead to skin irritation. In addition to our AHA-Mazing Clean Cleansing Gel, which exfoliates and cleanses, our Bespoke Vitamin C Serum, provides light exfoliation.
Brighten. As we age, skin can become unevenly toned due to age spots, melasma, etc. The following ingredients can brighten skin:

Niacinamide. Lightens skin discolouration and fades age spots by decreasing the number of melanin transferred to pigment-producing cells (melanocytes) to skin cells by more than half. Find niacinamide in A is for Anti-Aging, where it is combined with Phenylethyl Resorcinol, another skin brightening agent and retinaldehyde, for the ultimate in age prevention properties.
Vitamin C. Found in our Bespoke Vitamin C Serum, it brightens skin by disrupting the production of melanin, a skin pigment that causes discolouration and age spots.
Because the two ingredients above do so much to improve skin's glow, we've combined A is for Anti-Aging and our Bespoke Vitamin C Serum into the Radiant Skin Set. When used together regularly, these serums will help to illuminate your complexion. Expect to see results within a few weeks and optimal results in about three months.
Other ingredients that can help to brighten skin include lactic acid, arbutin, kojic acid and licorice.
Hydrate. Dry and dehydrated skin looks dull and may even appear more wrinkled. Although you may not need a dedicated moisturizer, it's important to incorporate products that can help to replenish and lock in moisture. In a previous post we discussed how to choose a moisturizer and our Daily Infusion Moisturizer provides a perfect balance of the 3 types of ingredients needed to keep skin hydrated.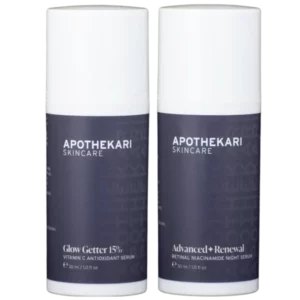 Fake It Till You Make It!
While you're waiting for results from topical treatment to kick in, you can rely on make-up, which helps to deliver an instant glow. Look for products that contain minerals like mica, which reflect light to deliver radiant skin allover.