A solid skincare routine is the foundation for youthful, ageless skin. Learn how to put together a regimen that covers the essential products for morning and nighttime skincare in this post.
Ready, Set, Glow!
Wake up to healthy, ageless skin with these morning & nighttime skincare essentials. Buy at our online store PhaMix.com
Aging Doesn't Mean Aging Skin
We've discussed the impact that age has on our skin in a previous post. This includes:
Less natural oil production leading to rougher, drier skin
Less elastin and collagen production leading to skin that is less firm
Thinning skin that appears more transparent
Loss of volume due to thinning bones.
We can't control the impact of time, but our lifestyle choices also play a role in our skin's appearance. For great skin it's important to eat well, get enough sleep, exercise and incorporate effective skincare products as found in our Ageless Skin Set.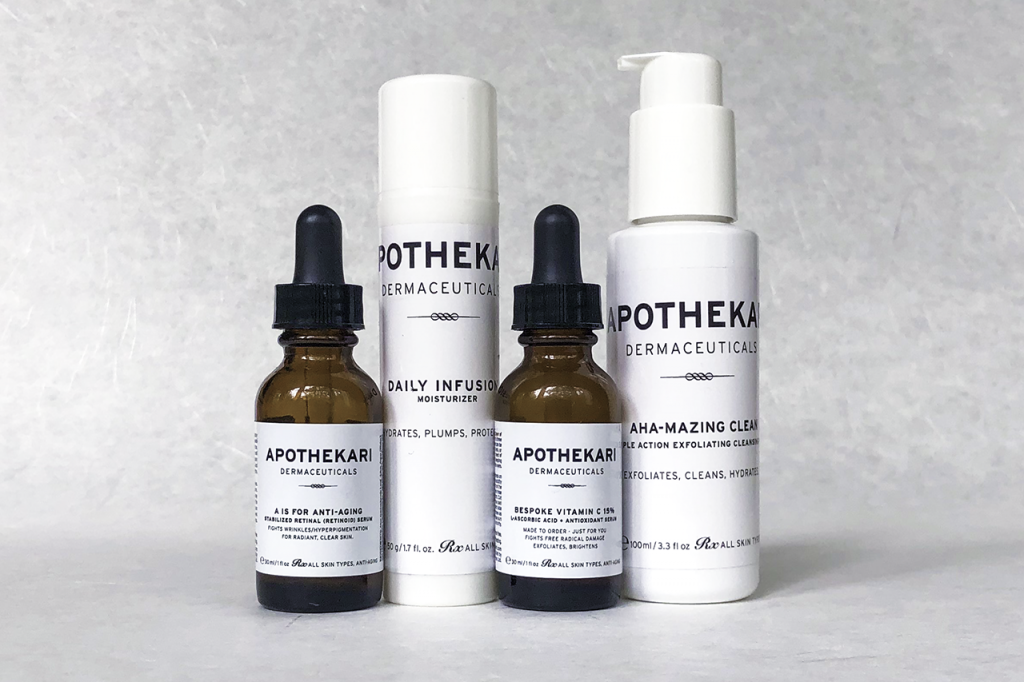 A Morning and Nighttime Skincare Routine
A 3-step skincare routine is one that most of us should follow to keep our skin looking its very best:
Cleanse. To rid skin of make-up, pollution, dirt and oil, which can lead to blemishes, redness and irritation. One-step or two-step; it's up to you but this important step shouldn't be missed, especially at night. Cleansing also ensures that serums and other active products that you put on your skin can penetrate to deliver their effects.
Protect. If you're not wearing sunscreen every day, you're not giving your skin a fighting chance! The sun's ultraviolet rays are thought to contribute to more than 80% of skin aging so find a sunscreen that you love and apply it every morning, every day of the year! Our Shade SPF 30 Sunscreen delivers non-whitening, mineral-based protection in a non-greasy base.Add in an antioxidant formulation – one with Vitamin C (as in our Bespoke Vitamin C Serum), as recommended by most skincare experts. Antioxidants help defend against the free radicals that cause skin damage, and which we're exposed to daily from pollution and UV rays.
Perfect. Depending on your age, your skin type and where you live (climate, humidity, etc), this step addresses your skin's specific needs. Whether it's fine lines and wrinkles, crows feet, dark circles, hyperpigmentation, dry skin or acne, this last step addresses that.A serious anti-aging skincare routine must include a retinoid. Derived from Vitamin A, retinoids deliver a range of proven skin benefits:

Minimize the appearance of fine lines and wrinkles
Brighten skin tone by reversing sun damage and dark spots
Thicken skin
Retinoids also have anti-acne properties, making them a useful addition in the management of blemishes, which many women experience as they get older. Our A is for Anti-Aging contains retinaldehyde – an effective yet gentle retinoid, making it suitable for most skin types – along with other skin beneficial ingredients for firmer, brighter and more youthful looking skin.
Depending on your concerns, incorporate other products including moisturizers, eye treatments, skin lighteners, masks or exfoliants into your skincare routine as needed.
Our Ageless Skin Set: Part of Your Skincare Routine
We've combine 4 essential products to cover a morning and nighttime skincare routine into our Ageless Skin Set, which currently features special pricing:
Are you ready to wake up to healthy, ageless skin with this essential AM/PM skincare set?