Choosing a kids sunscreen isn't all that different from choosing one for yourself. However, there are a few things that may be different when finding one to protect children's delicate skin.
Prevention of sun damage should start early and, in addition to using your Sun Smarts, regular sunscreen use is a big part of it.
What makes a great kids sunscreen?
These features are a "must":
Wearability with a pleasant, non-sticky finish
Paraben-free, fragrance-free
Easy application
Water resistant (40 minutes) or very water resistant (80 minutes)
Effective and stable broad spectrum sun filters that block out UVB rays (for burns) and, in the interest of long-term sun damage, UVA rays as well.
But where to start? Here at PhaMix, we've got some excellent options.
Ombrelle Kids SPF 60 Wet 'n Protect Lotion
We're big fans of Ombrelle sunscreens for their long history of providing photostable, broad-spectrum protection against UVA and UVB rays. This SPF 60 Kids sunscreen has everything we've come to expect from Ombrelle:
Ombrelle's patented filtering system with Mexoryl technology and other sunscreen filters for broad spectrum UVA/UVB protection
Non-greasy, non-sticky texture that is easy to apply and quickly absorbed
Hypoallergenic formula, free from colorants and fragrances
Non-comedogenic protection that is suitable for sensitive skin on both face and body
Water/sweat-resistant (up to 80 minutes)
But what makes Ombrelle Kids Wet 'n Protect SPF 60 Lotion stand apart from the rest is that it can be applied to wet skin, making application so much faster. This is our new go-to for a day at the pool or beach.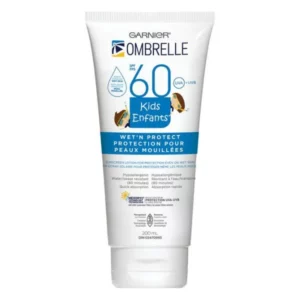 Anthelios Dermo-Kids SPF 50 Lotion
Anthelios sunscreens are such customer favorites that it shouldn't come as a surprise that it would be the same for a kids sunscreen as well.  Perennial favorite Anthelios SPF 50 Dermo-Kids Lotion is specially indicated for sensitive skin and contains a combination of physical and chemical sun filters, including an impressive 4.5% of highly coveted Mexoryl XL. Tested under pediatric control, this lotion is perfect for both the body and face.
Anthelios Dermo-Pediatrics Spray Invisible SPF 50+
Ideal for sun-intolerant skin and extreme sunshine intensity, this spray kids sunscreen from Anthelios is the ultimate in ease-of-application with a non-sticky, non-greasy finish that both kids and adults will love.  We're also fans of its non-white finish, perfect for use on the face (spray lotion into palm before applying to the face).   With its combination of photostable and effective sun filters such as Mexoryl XL and Tinosorb S, Anthelios Dermo-Pediatrics Spray delivers optimal UVA/UVB protection.  Invisible finish, comfortable to wear, ultimate protection – this one has it all. We may just steal it from our kids!
Still not sure?  Call us. We love talking sunscreen!